Versa J23 Tempered Glass Edition
ATX mid-tower chassis with one tempered glass window and one preinstalled 120mm fans.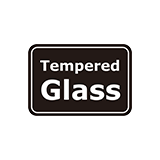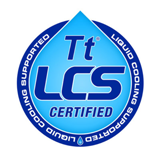 Thermaltake Versa J23 Tempered Glass Edition Mid-Tower Chassis
Introducing the new Versa J23 tempered glass chassis, designed to give first time builders a premium experience out of the box.
The J23 features a full-width tempered glass panel on the left side, an acrylic front panel to showcase your fans and lighting modes, as well as a handy power supply cover to keep your system looking neat and tidy.
If you're looking for a sleek, modern way to show off your system, the J23 is the way to go.
*The image is for reference only.
* One standard 120mm fan is included.
Built-in PSU Cover
With a built-in power supply cover, the J23 features plenty of ventilation to keep your power supply cool while also hiding away all those cables.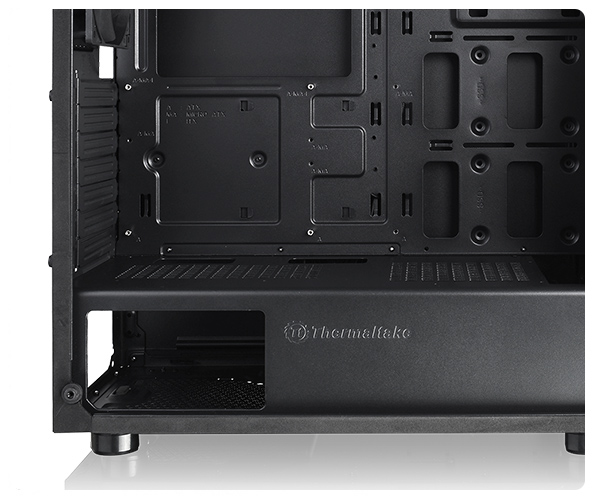 Tempered Glass Window
The Versa J23 comes equipped with a full sized 4mm thick tempered glass panel which is held on with thumbscrews in each corner. Our tempered glass panels are made to be durable and show less wear and tear than traditional acrylic panels – making this the best way to show of your system!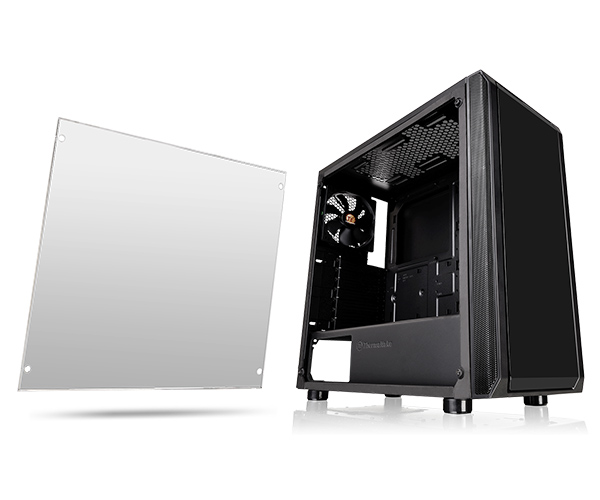 Tool-Free Installation
The included 3.5"/2.5" -compatible drive brackets minimize the hassles of installation /removal. Users are able to freely interchange the hard-drives to suit their particular needs.

3.5" or 2.5" HDD Drive Compatible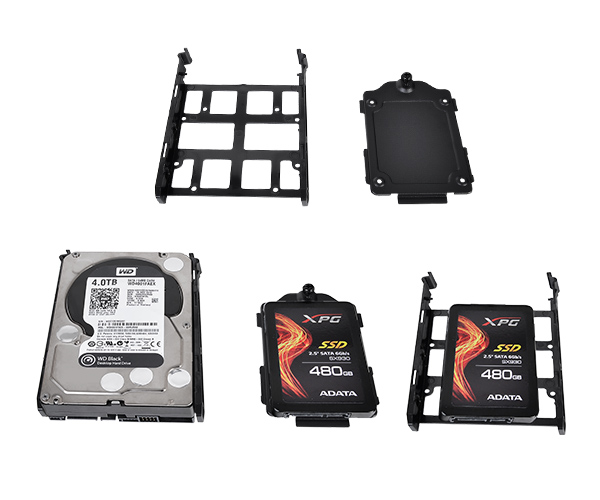 Superior Hardware Support
Don't compromise on hardware, the J23 can fit a tower CPU cooler with maximum height 160mm, and dual expansion slots for VGA up to 310mm in length, and a power supply with length of up to 170mm.
*The image is for reference only.
* One standard 120mm fan is included.
Excellent Cooling Capability
The Versa J23 comes with one 120mm fan preinstalled in the rear, with space for three 120mm fans in the front and two 140mm fans at the top. The front and top panels also feature mesh cutouts to keep airflow as high as possible, and helping hardware stay cool.
*The image is for reference only.
* One standard 120mm fan is included.
Modern, Sleek Styling
The J23 is designed to draw all the focus onto your internal system. The acrylic front panel lets light pour out from your fans, while the ventilated top and tempered glass side panels put your hardware on display.
*The image is for reference only.
*one standard 120mm fan is included.
Handy I/O Ports
With easy-access USB 2.0 and 3.0 ports on the front of the case, the Versa J23 is built for work as well as play.
Radiator Supporting List
Radiator Compatibility List
120
mm
240
mm
360
mm
140
mm
280
mm
420
mm

Front

●
●
-
●
●
-

Top

●
●
-
-
-
-

Rear

●
-
-
-
-
-
All-in-One Compatibility List
(Water 3.0 and Floe series)
Performer
Pro
240
Series
360
Series
140
Series
280
Series

Front

●
●
●
-
●
●

Top

●
-
●
-
-
-

Rear

●
●
-
-
-
-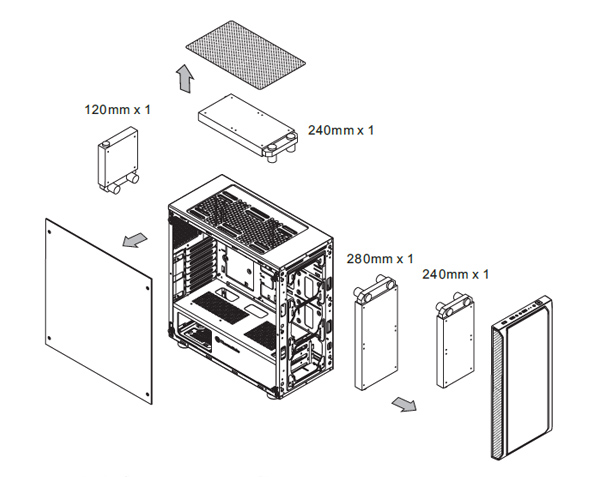 Fan Supporting List
Fan Compatibility List
120
mm
140
mm
200
mm

Front

3
2
-
Top
2
2
-
Rear
1
-
-
Thermaltake Compatible Fan

120
Series

140
Series

200
Series

PURE FAN Series

●
●
-
LUNA FAN Series
●
●
-
Riing FAN Series
●
●
-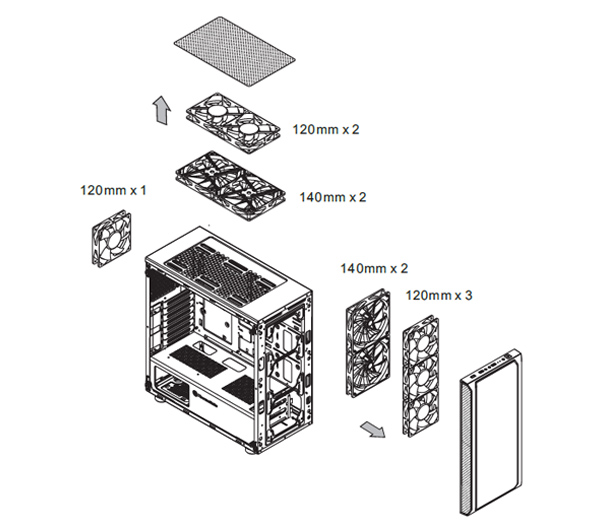 More Information
P/N
CA-1L6-00M1WN-00
Series
Versa
Model
Versa J23 TG
CASE TYPE
Middle tower
Dimension (H x W x D)
447 x 205 x 455 mm
(17.6 x 8.1 x 17.91 inch)
NET WEIGHT
6.5 kg / 14.33 lb
SIDE PANEL
4mm Tempered Glass x1
Color
Exterior & Interior : Black
MATERIAL
SPCC
COOLING SYSTEM
Rear (exhaust) :
120 x 120 x 25 mm fan
(1000rpm, 16dBA)
Drive Bays
-Accessible
-Hidden

2 x 2.5"
2 x 3.5" or 2 x 2.5"(HDD Tray); 2 x 2.5" (HDD Bracket)

EXPANSION SLOTS
7
MOTHERBOARDS
6.7" x 6.7" (Mini ITX), 9.6" x 9.6" (Micro ATX), 12" x 9.6" (ATX)
I/O Port
USB 3.0 x 1, USB 2.0 x 2, HD Audio x 1
PSU
Standard PS2 PSU (optional)
FAN SUPPORT
Front:
3 x 120mm, 2 x 140mm
Top:
2 x 120mm, 2 x 140mm
Rear:
1 x 120mm
RADIATOR SUPPORT
Front:
1 x 240mm, 1 x 280mm
Top:
1 x 240mm
Rear:
1 x 120mm
CLEARANCE
CPU cooler height limitation: 160mm
VGA length limitation: 310mm
PSU length limitation: 170mm
Thermaltake Versa J23 TG Edition оставил приятное впечатление, стильный и аккуратный корпус, собранный из качественных материалов. Предлагается хорошая совместимость с компонентами и простота сборки. При этом он достаточно компактен и позволяет сделать акцент на элементах, оснащенных подсветкой. Подойдет он и под рабочий ПК, и игровую станцию, построенную на одной или двух видеокартах. Не устроить может отсутствие пылевого фильтра на фронтальной стенке и вибропрокладок на корзинах жестких дисков.
<More>
User Manual
File Name
Description
Size
Version
Release Date