LCD multi fan controller with gorgeous 16 different illumination display colors monitors and control the system temperature and fan speed

Thermaltake Commander F6 RGB LCD Multi Fan Controller
Thermaltake has launched the new multi-fan controller – Commander F6 RGB. The wide LCD screen's user-friendly interface displays temperature (℃/℉), RPM, and voltage for each channel. Additionally, with six separate channels and gorgeous 16 different illuminating display colors, you can personalize your visual environment and easily access all fan functions at the same time. All you need is an empty 5.25" drive bay and you're ready to go.
16 RGB Multi Colors
Choose from 16 screen display colors to add aesthetics to go. With its sturdy frame and reliable inner system, Commander F6 RGB is an ideal device to monitor the temperature inside the chassis and control the fan speed.
Adjustable Output Voltage (0V-12V)
Unlike other fan controllers on the market, the Commander F6 RGB's control knobs allows you to adjust the voltage with precision (voltage range: 0.1V).
*Please be aware of your minimal fan operation voltage.
Thermal Monitoring
The Commander F6 RGB helps you keep an eye on temperature, giving you details down to the selected fan speed (RPM). Choose Celsius or Fahrenheit according to your preferences. The embedded temperature warning alarm can also be set, so that you can stay in control.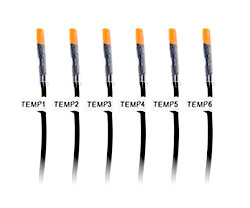 * Six independent sensors can monitor the temperature anywhere inside the chassis.
Comprehensive Cooling Performance and Noise Control
Featuring six 30W separate fan control channels, the Commander F6 RGB lets you adjust the speed of any type of fan, giving you precise cooling control with minimal noise.
Note: Riing fans are sold separately.
Warning Alarm and Short Circuit Protection
The built-in alarm function warns you if any component gets overheated or the fan fails.
Lumi Color LED Strip Compatible
With two additional 3-pin cables, you can easily connect Thermaltake Lumi color LED strips or other single color LED strips* to the Commander F6 RGB fan controller. You can also adjust the brightness of Lumi color strips according to your preferences. The Commander F6 RGB comes with all necessary cables to connect easily to up to six fans with a standard 3-pin or PWM connector.

*Lumi color LED strips are not included
More Information
P/N
AC-024-BN1NAN-A1
Weight
345g
Dimensions
90 x 150 x 43mm 
Form Factor
5.25" Driver Bay
MATERIAL
Plastic
Fan Specs
Channels : 6
Channel Wattage : 30W
Speed Range : 0 – 9990 RPM
Voltage Range : 0V – 12V
Temperature
Sensor : 6
Temperature Range : 0 - 90 ℃
Display Unit : Fahrenheit (°F) / Celsius (°C)
Connector
Fan : 3-Pin or 4-Pin
Power : 4-Pin Molex
Accessories
M3 Screws x 4
Sensor Cables x 6
LED to 3-Pin Cable x 2
User Manual
File Name
Description
Size
Version
Release Date