Thermaltake Core V41 Window Mid-tower Chassis
The new Thermaltake Core V41 mid-tower chassis, a new addition to the Core Series, which has now arrived following the launch of Core V71, V1, V51, and V31, while retaining the curved metal mesh appearance, it delivers an outstanding cooling performance with the compatibility for the extensive DIY/AIO LCS, and the air cooling units that the series has become renowned for. Core V41 is an enthusiast's grade mid-tower chassis creating unprecedented space for high-end hardware and liquid cooling expansion, supporting the latest ATX, Micro ATX, Mini-ITX motherboards, and all high-end GPU cards.
*The product picture(s) is only for your reference.
For more detail, please refer to the product manual.
Enthusiasts Design
Designed for gamers, the perforated top panel with magnetic dust filter and bottom panel allow easy heat dissipation and rapid air intake for maximum ventilation. The heightened case-stands help to enhance the airflow and overall stability during operation. Featuring a transparent side window to offer a direct view of the inner system.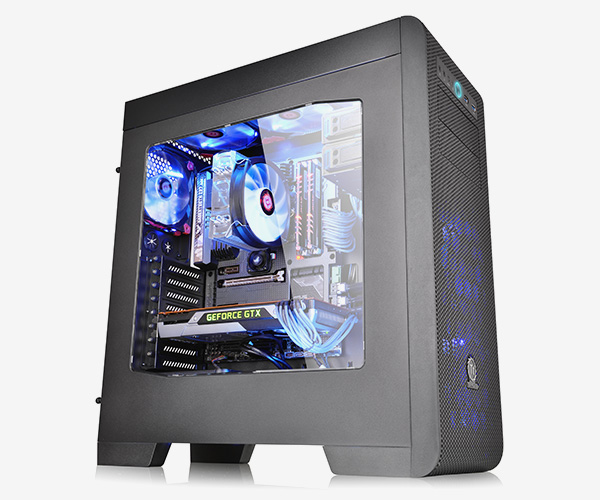 Tool-free Installation
Innovative 5.25" & 3.5" tool-free drive bay design has minimized the hassles of installing/removing "2 + 3 + 3" drive bays with modular drive racks, granting ease and flexibility on setting up the best storage solution.

Fully Modular Concept
A customizable 5.25" & 3.5" drive bay feature enables users to freely interchange the 3.5" hard-drive cages to suit their particular needs, whilist being able to remove the 5.25" & 3.5" drive bays to gain maximum interior space for advance cooling performance or liquid system build.

Advanced Cooling Solution
Core V41 delivers an outstanding cooling performance, which consists of DIY/AIO liquid cooling systems and air cooling units. Standard equipped with a 120mm intake fan which is hidden behind the front dust filter, quietly pushing infinite amounts of air over the hard drives and GPUs. The air is then extracted by a second 120mm fan at the rear. Additionally, with the aid of the cable management design that is guaranteed to take the cooling performance to the next level.
Liquid Cooling Performance
Core V41 enables users to build a high-end liquid cooling system by supporting up to 360mm liquid cooling radiators, along with long graphic cards, and other liquid cooling components. The series is not only aimed at simultaneously protecting the hardware, but also to increase the CPU's overclocking potential. Most importantly, it has the capability to deliver an outstanding cooling efficiency throughout the entire chassis.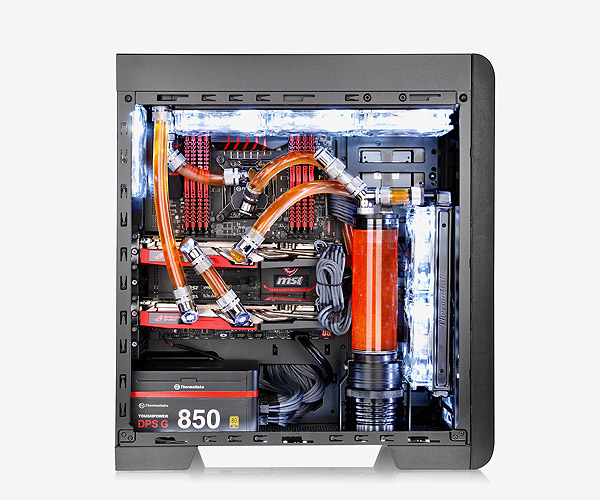 Tt LCS Certified is a Thermaltake exclusive certification applied to only products that pass the design and hardcore enthusiasts standards that a true LCS chassis should be held to. The Tt LCS certification was created so that we at Thermaltake can designate to all power users which chassis have been tested to be best compatible with extreme liquid cooling configurations to ensure you get the best performance from the best features and fitment.
Core V41 Radiator Supporting List
Radiator Compatibility
120mm
140mm
240mm
280mm
360mm
Front
*
*
*
*
*
Top
*
*
*
*
*
Rear
*
Bottom
Water 3.0 Compatibility List
Ultimate
Extreme/
Extreme S
Pro
Performer/
Performer C
Front
Top
*
*
*
*
Rear
*
*
Bottom
Core V41 Fan Supporting List
Fan Compatibility List
120mm
140mm
220mm
Front
2
2
-
Top
3
3
2
Rear
1
-
-
Bottom
2
-
-
Thermaltake Compatible Fan
Pure Fan Series
*
*
*
Luna Fan Series
*
*
*
Odin Fan Series
*
-
-
More Information
P/N
CA-1C7-00M1WN-00
Series
Core
Model
Core V41
CASE TYPE
Mid Tower
Dimension (H x W x D)
526 x 232 x 491 mm
(20.7 x 9.1 x 19.3 inch)
Net Weight
8 kg
SIDE PANEL
Transparent Window
Color
Exterior & Interior : Black
MATERIAL
SPCC
COOLING SYSTEM
Front (intake) :
120 x 120 x 25 mm Turbo fan (1000rpm, 16dBA)
Rear (exhaust) :
120 x 120 x 25 mm Turbo fan (1000rpm, 16dBA)
Drive Bays
-Accessible
-Hidden
Accessible : 2 x 5.25'', 1 x 3.5'' (Converted from one 5.25" drive bay)
Hidden : 6 x 3.5'' or 6 x 2.5''
EXPANSION SLOTS
8
MOTHERBOARDS
6.7" x 6.7" (Mini ITX), 9.6" x 9.6" (Micro ATX), 12" x 9.6" (ATX)
LCS Upgradable
Supports 1/2"、3/8"、1/4" water tube
I/O Port
USB 3.0 x 2, HD Audio x 1
PSU
Standard PS2 PSU (optional)
FAN SUPPORT
Front:
1 x 120mm or 2 x 120mm
1 x 140mm or 2 x 140mm
Top:
1 x 120mm or 2 x 120mm or 3 x 120mm
1 x 140mm or 2 x 140mm or 3 x 140mm
1 x 200mm or 2 x 200mm
Rear:
1 x 120mm
Bottom:
1 x 120mm or 2 x 120mm
RADIATOR SUPPORT
Front:
1 x 120mm or 1 x 240mm or 1 x 360mm
1 x 140mm or 1 x 280mm
Top:
1 x 120mm or 1 x 240mm or 1 x 360mm
1 x 140mm or 1 x 280mm
Rear:
1 x 120mm
CLEARANCE
CPU cooler height limitation:
170mm

VGA length limitation:
275mm(with HDD rack)
410mm(without HDD rack)

PSU length limitation:
180mm (With Bottom Fan)
200mm (Without Bottom Fan)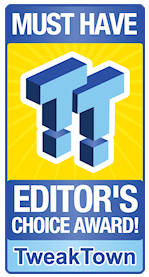 The Bottom Line: Thermaltake proves they are at the top of their game with the Core V51. They deliver a mid-tower with all of the functionality, customizability, and modularity at a great cost that we have come to expect today.
Overall rating : 97%
<More>