Thermaltake Announces the Worldwide Availability of the Divider 550 TG Ultra Chassis, the First TT Mid-Tower Chassis with an LCD Screen
Monitor Real-time Informationž Show off Personal Styling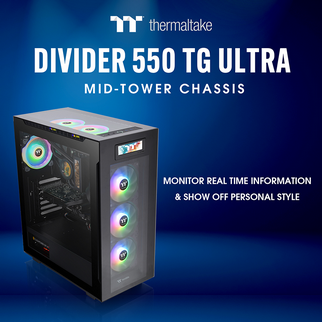 Taipei, Taiwan-April 28th, 2022-Thermaltake, the leading PC DIY premium brand for Case, Cooling, Gaming peripherals and enthusiast memory solutions, is thrilled to announce the worldwide availability of the Divider 550 TG Ultra ATX Mid-Tower Chassis, the first Thermaltake chassis with an LCD screen, allowing users to show off their unique style whilst monitoring PC real-time information.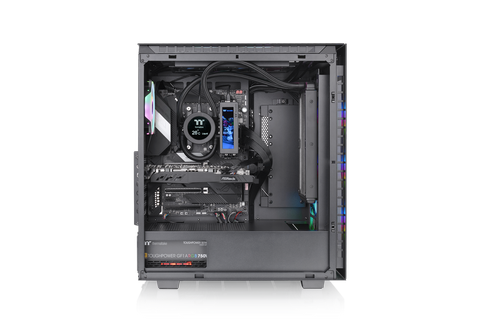 Being the new variant of the Divider series, the remarkable feature of the Divider 550 TG Ultra ATX Mid Tower Chassis is the LCD screen on the top of the front panel, which provides a window to display likable images and GIFs, and monitor PC information such as CPU's real time temperature or RAM's current frequency. Supported by TT RGB PLUS 2.0 software, the chassis now has more customizable options to show ones' personality.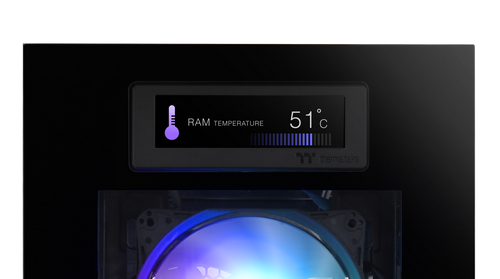 The Divider 550 TG Ultra ATX Mid Tower Chassis comes with three preinstalled 120mm 5V ARGB front fans, which can sync with RGB motherboard software from ASUS, GIGABYTE, MSI, and ASRock. Users can enjoy 16.8 million-color RGB illumination in 27 lighting modes and can easily switch between physical button control and motherboard software by long-pressing the RGB button. Moreover, the glowing RGB lighting and all other components can be seen clearly, thanks to the 3mm tempered glass panels at the top, front, and left sides.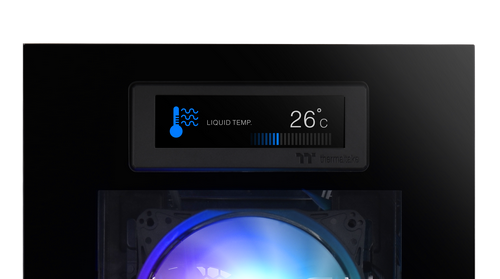 In addition to three preinstalled 120mm 5V ARGB front fans, the design of the chassis itself guarantee smooth airflow and make the cooling performance of the chassis more admirable. For example, the venting gaps on two sides of the front tempered glass create an optimal air intake solution. Cooling exhausts are located on the right side of the steel panel and at the rear of the case. Notably, the right panel is in a special symmetrical triangular side panel design that keeps the unique features of the Divider series and provides better thermal extraction through the small holes on the side panel.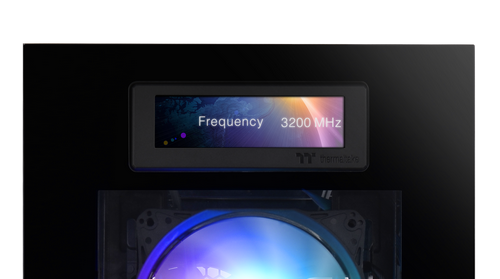 The Divider 550 TG Ultra supports the latest PC components and the utmost hardware backing and gives more flexibility on component arrangement. A built-in PSU cover is designed to hide unsightly cables with overall good ventilation. The patented PCI-E expansion slots allow users to choose either to place their GPU vertically or horizontally without additional parts needed, and a riser GPU support bracket also gives extra support for bracing GPU. What's more, users can choose to mount radiators in various locations, and up to a 360mm AIO radiator will fit.

Focusing on both function and appearance, the Divider 550 TG Ultra ATX Mid Tower Chassis is the next-gen gaming PC case for enthusiasts, and gamers, giving them unprecedented satisfaction.

Features of the Thermaltake Divider 550 TG Ultra Mid-Tower Chassis:
Fully Customizable with TT RGB Plus 2.0
Monitor frequency and real-time temperature directly from the 3.9" LCD display, and upload any images or GIFs to add extra flair with the TT RGB Plus 2.0 software.

Three Preinstalled 120mm 5V ARGB Fans
The Divider 550 TG Ultra comes with three 120mm 5V ARGB fans at the front, which can be controlled by the physical RGB button on the I/O panel or motherboard software from ASUS, GIGABYTE, MSI, and ASRock. There are 27 RGB lighting modes to play around when using the physical RGB button, and it's simple to switch between physical button control and motherboard software control by long-pressing the RGB button for three seconds.

PSU Cover & Riser GPU Support Bracket
The built-in PSU cover is designed to hide unsightly cables with overall good ventilation. Riser cable bracket enables vertical GPU installation and helps reduce the weight on the PCI-E slots.

Display It Your Way
Patented rotational PCI-E slots give you the option to display your graphics card either horizontally or vertically, creating plenty of flexible space for your system.

Tempered Glass Panels
The Divider 550 TG Ultra comes with three 3mm tempered glass panels at the front, top, and left sides, thicker and more scratch resistant when compared to standard acrylic. On top of that, the enlarged window on the left is a full tempered glass panel that enables you to display and admire all your components in their full RGB glory.

Excellent Dust Filtration
The Divider 550 TG Ultra has well-designed dust filtration. The two removable filters are located on the inner side of the right panel and the base to ensure a dust-free environment, providing excellent dust protection and dirt reduction. Moreover, venting gaps on the sides of the top and front panels not only offer extra air exchange for even better air ventilation, but the sealed filter can also protect dust from infiltrating the chassis.

Excellent Hardware Support & Cooling Solution
The Divider 550 TG Ultra has an excellent hardware expansion. It can support a CPU cooler with a maximum height of 170mm, VGA with maximum length of 390mm (without radiator), a power supply with a length of up to 220mm (without HDD Cage), total of two 3.5" HDDs and five 2.5" SSDs or a total of seven 2.5" SSDs. When it comes to the cooling solution, the Divider 550 TG Ultra is preinstalled with three 120mm 5V ARGB front fans for cold air intake and one 120mm standard rear for hot air extraction. The maximum fan capacity at the front is two 140mm fans. Besides that, the case can hold up to two 140mm fans at the top and two 120mm fans on the right of the motherboard side. Moreover, the Divider 550 TG Ultra is optimized for air cooling and advanced AIO liquid cooling components. It can support AIO 360mm at the front, 280mm on the top, and 240mm on the right side of the motherboard (vertical-installed GPU recommended), and a 120mm at the rear.

Handy I/O Ports
Two USB 3.0 and one USB 3.2 (Gen 2) Type C ports are placed on the top panel to grant direct access when needed.

DMD: Dismantlable Modular Design
Strip your case down to the bones and install elements when and as you need them with our modular design. The Divider 550 TG Ultra features modular panels, racks, brackets, and pre-designed mounting arrays. There are no more unreachable screw corners or gaps; installation can be a breeze with our Dismantlable Modular Design.

Sync with Motherboard RGB Software
Designed to synchronize with ASUS Aura Sync, GIGABYTE RGB Fusion, MSI Mystic Light Sync, and ASRock Polychrome. It supports motherboards with a 5V addressable RGB header, allowing you to control the lights directly from the software mentioned above without installing any extra lighting software or controllers. For more details, please visit ASUS, GIGABYTE, MSI, and ASRock official websites.

Availability, Warranty, and Pricing
Thermaltake Divider 550 TG Ultra Mid-Tower Chassis is now available for purchase via the Thermaltake worldwide network of authorized retailers and distributors. It is backed by a three-year warranty and supported by the Thermaltake worldwide customer service and technical support network. For up-to-date pricing, please refer to the Thermaltake website or contact your local Thermaltake sales or PR representative.

Thermaltake Divider 550 TG Ultra Mid-Tower Chassis Video:
https://youtu.be/3jcnLgpptXE


For more details on Thermaltake Divider 550 TG Ultra Mid-Tower Chassis, please visit:
https://www.thermaltake.com/divider-550-tg-ultra-mid-tower-chassis.html

Where to Buy Thermaltake Divider 550 TG Ultra Mid-Tower Chassis:
TT Premium USA- https://www.ttpremium.com/product/divider-550-tg-ultra-mid-tower-chassis/
TT Premium Taiwan- https://ttpremium.com.tw/divider-550-tg-ultra-mid-tower-chassis.html
TT Premium Asia- https://asia.ttpremium.com/divider-550-tg-ultra-mid-tower-chassis.html
TT Premium Europe- https://ttpremium.eu/divider-550-tg-ultra-mid-tower-chassis.html
TT Premium Australia- https://ttpremium.com.au/divider-550-tg-ultra-mid-tower-chassis.html
TT Premium China- https://ttpremium.com.cn/product/divider-550-tg-ultra-mid-tower-chassis/