Thermaltake Reveals the Top 3 Winners of 2022 NeonMaker Lighting Mix Invitational Season 1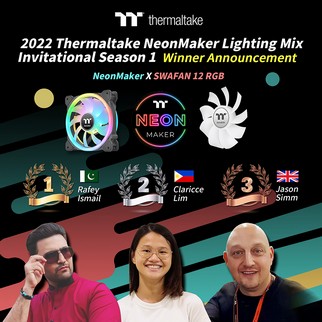 Taipei, Taiwan-March 14th, 2023-
Thermaltake
,
the leading PC DIY premium brand for Cooling, Gaming Gear, and Enthusiast Memory solutions, warmly congratulates
the winners of the 2022 Thermaltake NeonMaker Lighting Mix Invitational Season 1. In first place is
Rafey Ismail
from Pakistan,
in second place is
Claricce Lim
from the Philippines, and
in third place is
Jason Simm
from the United Kingdom.
NeonMaker is a premium RGB light editing software highly customizable for lighting effects on every single LED light bulb. Users can create their unparalleled lighting effects on PC via built-in effects, custom colors, and set-up timelines in NeonMaker.
2022 Thermaltake NeonMaker Lighting Mix Invitational Season 1
invited 6 eminent modders from Canada, Pakistan, Spain, the Philippines, and the United Kingdom to organize spectacular RGB light shows with NeonMaker software and SWAFAN RGB radiator fans.
All light shows display stunning arrangements from their colorful lighting effects and well-designed self-made props, and it was challenging for the judges and the public to choose the winners. Thermaltake sincerely appreciates the efforts of all the modders and the support from the public for taking this event to a whole new level. Thermaltake will continue to work hard to provide a perfect RGB lighting experience, and hope to meet all participants in the coming events soon!
Meet the Winners
1st Place [Rafey Ismail]: As a loyal fan of anime, Rafey chose the most historic anime fights as the theme of his light show. The RGB lighting presented a sophisticated design through the matched representative color of the characters and the vivid lighting effects that mimic fighting action. The light show successfully reproduced the passionate story of anime.
2nd Place [Claricce Lim]: Claricce displayed a complete NeonMaker software operation and impressed audiences with plenty of different lighting effects and innovative radiator fan placements. Her video was shooted from multiple angles and included diverse scene transitions, making the overall lighting show lively.
3rd Place [Jason Simm]: Jason's light show is drawn from various materials, including an energetic disco, a mysterious Avatar, and a mellow sunset. Based on his outstanding skill, he visualized things in different styles and demonstrated the infinite possibility of RGB lighting customization with NeonMaker software.
More information, photos and other content on the event can be found on:
Event website:
https://lightmix.thermaltake.com/2022s1/index.html
Tt Community:
https://reurl.cc/7Reg0k
Top 3 winners video:
https://www.youtube.com/watch?v=evixV_If1Mw
Mark of Perfection
The entries were all superior quality and demonstrated the modders' extraordinary RGB lighting design skills. Consequently, it was not easy for the panel of judges to select the winners. The judges were required to evaluate and score from four criteria, including Originality, Utilization, Artistry, and Video Quality. The total percentage of the score was allocated 25% by the Thermaltake CEO, 15% by Thermaltake Judges, 30% by Tt Community Members, and 30% by Professional Modders. After summing up the votes from the judges, the final result pointed to
Rafey Ismail
,
Claricce Lim
, and
Jason Simm
.