Thermaltake New Contac Silent 12 CPU Cooler‧Water 3.0 Riing RGB 360 All-In-One Cooler‧Pacific W4 RGB CPU Water Block
Designed for the New AM4 socket of AMD's Ryzen Processors


Taipei, Taiwan-February 16th, 2017-Thermaltake, a leading brand in PC DIY market, today announced three new cooling solution lineups, the Contac Silent 12 CPU Cooler, the Water 3.0 Riing RGB 360 All-In-One Cooler, and the Pacific W4 RGB CPU Water Block, dedicated to excellent quality and outstanding performance for the new AM4 socket of AMD's Ryzen CPUs. All three cooling solutions have been tailor-made for the new AM4 socket. Most importantly, universal mounting mechanisms have been applied in order to deliver extreme compatibility and no-fuss expansion for custom PC builders.Targeting price-sensitive customers who want a high performance air cooler with an affordable price for their AM4-based platform, the Contac Silent 12 features a 120mm PWM controlled fan, superior heat dissipation with near-silent operation. The Water 3.0 Riing RGB 360 is designed to exceed PC enthusiasts' expectations and optimize the ventilation for the AM4 system. It is an all-in-one liquid cooler that utilizes a highly-efficient radiator, premium-quality pump and water block, and three PWM controlled high static pressure fans with a patented RGB Riing fan. The Water 3.0 Riing RGB series is also available in 240mm and 280mm. The Pacific W4 RGB adopts a 0.15mm micro-channel structure and a mirror-finished CU base that provides exceptional heat transfer for the Ryzen processors whilst preventing corrosion of the water block. Additionally, the special engineered 256-colored LED can help users add style to the build.

The new Thermaltake Contac Silent 12 and the Pacific W4 RGB CPU Water Block will be available on the market in March. The Water 3.0 Riing RGB 360 will be available for order online around April. The product availability and price vary by country and region, please contact the local Thermaltake sales representative for further information.

TT Premium
To continue achieving the corporate mission of delivering the perfect user experience, Thermaltake developed "TT Premium" with the essence of combining supreme quality products with a new logo design. TT Premium is far more than just a guarantee of quality. Behind the name, it represents the passion in DIY, Modding and Thermaltake's desire to be the most innovative brand in the PC hardware market. To satisfy the demand of the high-end PC users, TT Premium follows its core values of Excellent Quality, Unique Design, Diverse Combinations and Boundless Creativity to provide a high performance PC product for every enthusiast.

Exclusively "Tt LCS Certified"
"Tt LCS Certified" is the hallmark that ensures first-class performance from the best features and fitment. A certification exclusive to Thermaltake, it sets the benchmark for all true LCS chassis and is applied only to products that meet our stringent design standards for delivering what hardcore enthusiasts demand. The Tt LCS certification is a way for Thermaltake to designate to all power users the chassis which have been tested for best compatibility with extreme liquid cooling configurations.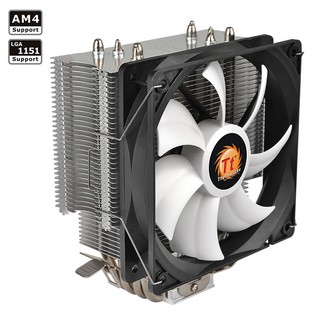 The new Thermaltake Contac Silent 12 CPU Cooler: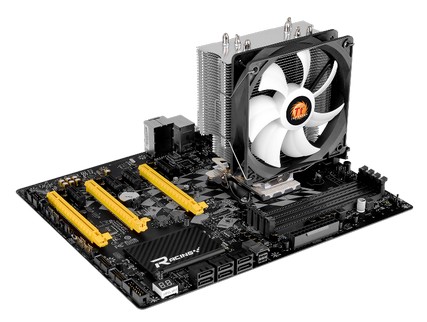 High Airflow Fan Blade Design
The fan blades are engineered to achieve the optimal cooling performance and generate large volume of air passing through the heatsink at any angle.

Long Life Hydraulic Bearing for Reliable and Silent Operation
The hydraulic bearing self-lubricates with a high quality, friction-reducing substance that lowers operation noise and enhance thermal efficiency. The seal cap prevents leakage of the lubricant and improves the lifespan of the unit.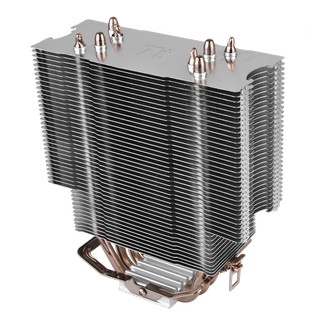 Superior Heat Dissipation
Optimized 0.4mm thickness aluminum fins with 2.2mm air gap, and 4 x Ø6mm solid copper heat-pipes are designed for rapid heat dissipation, allowing maximum heat conductivity. The tower's side flow design delivers the best cooling performance. In addition, the heat-pipes are in continuous direct contact with the CPU to ensure fast and efficient heat dissipation.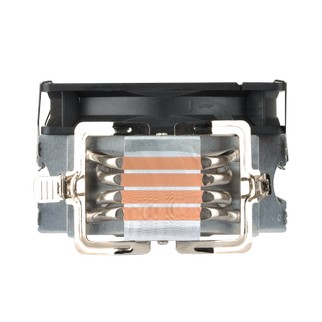 Optimized Silent Operation
The Contac Silent 12 comes with a LNC (Low-Noise Cable) that can reduce 24% of noise level and 27% of fan speed.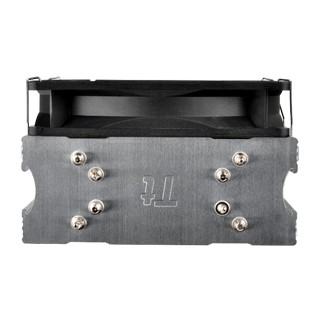 Special-Designed Fan Clips
The fan clips allow the fan and the cooler to combine tightly. Also, the clips make assembly and dismantling easier.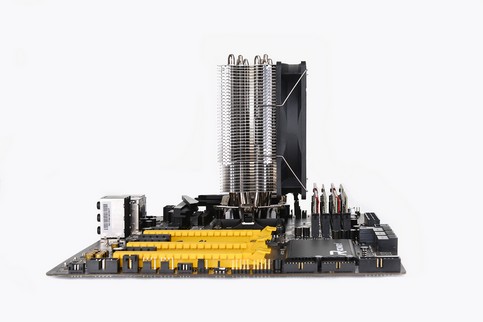 Non-Interference Cooling Design and Universal Socket Compatibility
The new Contac Silent 12 solves the co-existing problem of high performance RAM and CPU coolers, achieving the best RAM clearance. Most importantly, the all-in-one back-plate design offers universal Intel and AMD socket compatibility.
For more details on the Thermaltake Contac Silent 12 CPU Cooler please visit:
http://www.thermaltake.com/products-model.aspx?id=C_00003031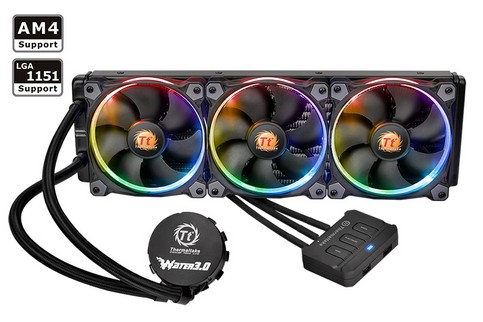 Thermaltake Water 3.0 Riing RGB 360 All-In-One Cooler:
Riing 12 LED RGB 256 Colors Radiator Fan
The patented circular 256 multicolored 120mm RGB radiator fans with high-static pressure design, producing impressive cooling performance.

Smart Fan Controller
A self-contained fan controller can switch between 5 LED modes including solid colors of red, blue, white, green or disable and cycle through 256 colors. Play/Pause functions allow users to cycle colors (color remains unchanged even after the PC has been turned off or rebooted) with speed control options that can reduce noise.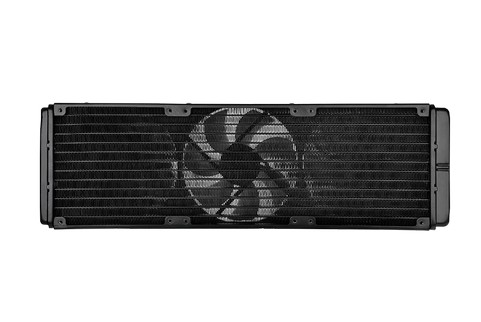 High Efficiency Radiator
Specially designed 360mm large surface radiator not only doubles the cooling surface, but also supports up to 6 x 120mm fans for additional heat dissipation.

Durable Sleeved Cable and High Performance Waterblock
Cable sleeve design delivers the best durability and prevents the tubing surface from any damages and scratches. Moreover, the high performance copper base plate accelerates the heat conductivity. Besides, the pre-refilled coolant reduces any stress from liquid replenishment hassle.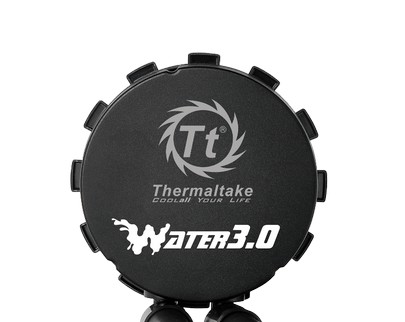 High Reliability Pump
The high quality and reliable pump enables the maximum amount of water circulation, keeping the copper plate continuously cool. The low evaporation tube effectively decreases the loss of coolant; therefore no refill is either needed or required.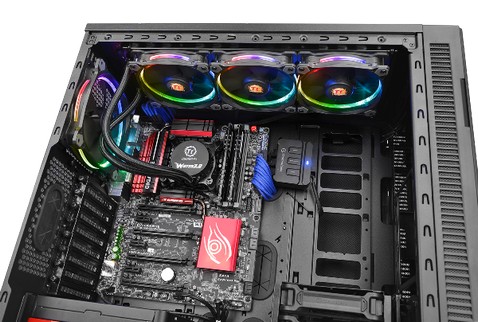 Simple Setup
Featuring the latest cooling performance, Thermaltake Water 3.0 Riing RGB Series provides an easy installation system and a totally maintenance-free operation, requiring only the minimum amount of space in the chassis.
For more details on the Thermaltake Water 3.0 Riing RGB 360 All-In-One Cooler please visit:
http://www.thermaltake.com/products-model.aspx?id=C_00002775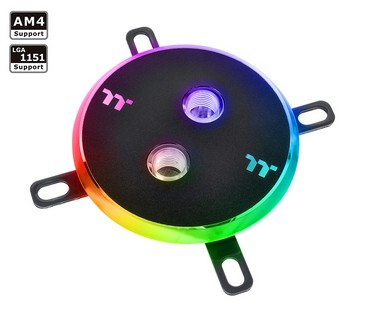 Thermaltake Pacific W4 RGB CPU Water Block:
Gorgeous RGB LED with Lighting Controller
The Pacific W4 RGB comes with a special engineered LED light that can be switched among a 256 RGB Cycle, a 7 static colors mode (Blue, Green Red, White, Orange, Yellow and Purple), and a LED Off mode. The brightness is also adjustable. Most importantly, the controller is constructed with a built-in memory function, saving the color applied and insuring the same color selection every time you boot your PC.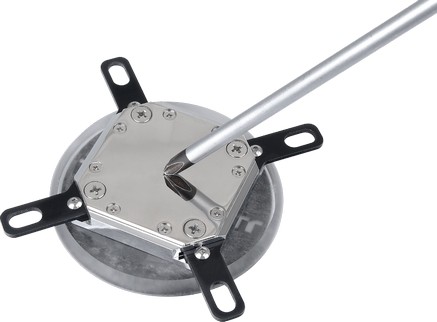 Anti-Corrosion Design with Mirror-Finished CU Base
Manufactured with Thermaltake's highest quality standards, the Pacific W4 RGB's specially machined copper base has an absolute mirror finish with anti-corrosive nickel plating that provides exceptional heat transfer and anti-corrosion protection for the most demanding use conditions.

Optimized 0.15mm Micro-Channel Structure
The Pacific W4 RGB applies a compact form factor that features 0.15mm micro-channel fin construction for optimal clearance and extreme heat dissipation.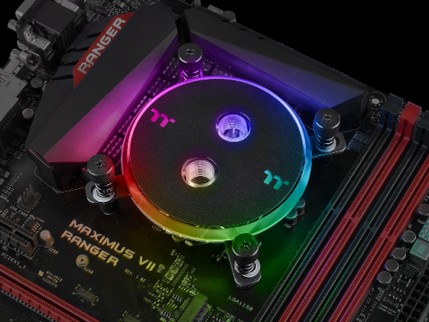 No-Fuss Expansion
Designed to fit all modern CPU sockets with universal mounting mechanisms, the Pacific W4 RGB allows enthusiasts to build superior water-cooling systems from an aesthetic standpoint as well as incorporate modular chassis upgrades for the future.

For more details on the Thermaltake Pacific W4 RGB CPU Water Block please visit:
http://www.thermaltake.com/products-model.aspx?id=C_00003010