Thermaltake Pacific DP100-D5 Plus/Core P5 DP-D5 Plus Distro-Plate
"The next-level liquid cooling component"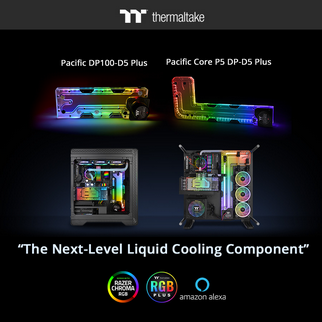 Taipei, Taiwan-October 15th, 2019
-Thermaltake, the leading PC DIY premium brand for Cooling, Gaming Gear and Enthusiast Memory solutions, has launched a top-end distro-plate– Pacific DP100-D5 Plus and Pacific Core P5 DP-D5 Plus. The application of the distro-plate aims to simplify the tube structure of hard tubing water cooling - a smarter way for beginners or experienced modders to present their water-cooled builds. The size of the Pacific DP100-D5 and 360mm radiators are similar, if your case supports more than two 360mm radiators, the distro can be easily installed on the fan mounting points. The Pacific Core P5 DP-D5 is specially tailored for the Core P5 TG, which is designed to fit on the radiator mounting points on the chassis with its L design. This gives users more flexibility to create tube runs and creative loops. All the distro-plates are equipped with preinstalled LED strips allowing users to set up different RGB lighting through the TT RGB PLUS software. This gives users complete control of their color themes. With these remarkable distro-plates, users can easily make their builds even more unique and reach a modder-like appearance. Also, the high-standard materials and superb performance of the distro-plate bring countless possibilities in modification.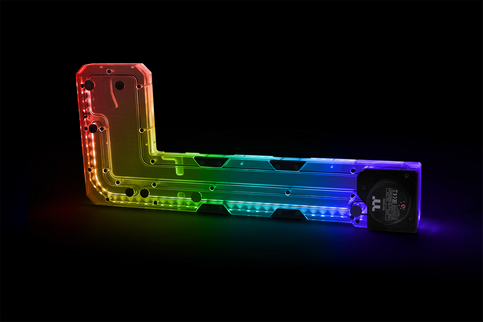 Features of the Pacific DP100-D5 Plus/Core P5 DP-D5 Plus Distro-Plate
Straightforward Installation
The look of both distro-plates are very simple and stylish. They have multiple ports on the plate and offer diversified water loop planning. The size of the Pacific DP100-D5 is almost equal to a 360mm radiator, and it can be mounted on any 360mm radiator mount location providing easy installation. The shape of Core P5 DP-D5 is built with a right-angle design, enabling the user to directly install on the Core P5 TG chassis.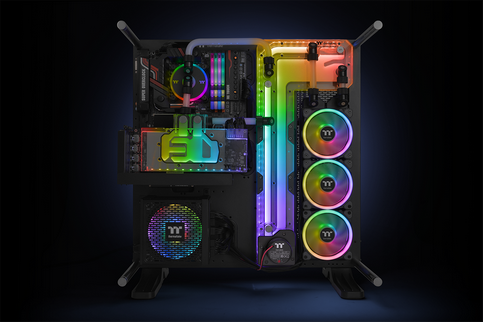 Vivid RGB Lighting from Every Angle
The built-in 18 and 48LEDs inside Pacific DP100-D5 and Core P5 DP-D5 secured on the two distro-plates feature great light coverage. Each LED can be customized for different lighting effects with the TT RGB Plus software. Users can choose their favorite color with a simple click of the software.
High-Quality 18mm Thick PMMA
The reservoir is made of high-quality PMMA that is reliable and can withstand high pressure and impact. This guarantees a durable lifecycle and superior quality for intense use.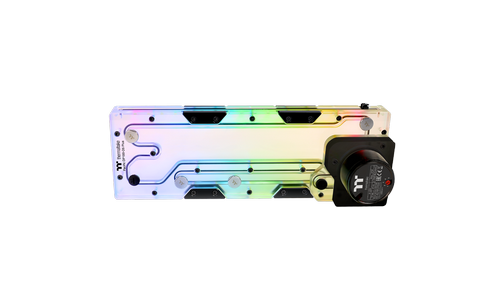 Excellent D5 Pump
The D5 Pump on DP100-D5 Plus and Core P5 DP-D5 features a D5 Pump which is renown for exceptional performance and unrivaled reliability and offers a lifecycle of 50,000 hours MTBF.
Patented TT RGB PLUS Software
The TT RGB PLUS software can turn the LED lights on or off, switch lights modes, dim the lights, change light colors, or adjust lights speeds or fan speeds. It also can monitor fan performance, adjust the fan speeds, and customize the lighting effects.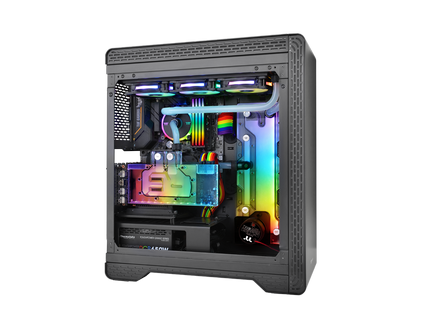 Works with Amazon Alexa
All Thermaltake TT RGB PLUS products support Amazon Alexa Voice Service, allowing you to give voice commands to the Alexa-enabled devices.
Sync with Razer Chroma Lighting
The Pacific DP100-D5 Plus and Core P5 DP-D5 are able to connect into the Razer Chroma ecosystem, Razer Synapse 3. Users can experience synchronized gaming and RGB lighting effects on their TT RGB PLUS liquid cooling system and Razer gaming gear!
Sync with Motherboard RGB Software
Designed to synchronize with ASUS Aura Sync, GIGABYTE RGB Fusion, MSI Mystic Light Sync, and AsRock Polychrome. It supports motherboards that have a 5V addressable RGB header, allowing you to control the lights directly from the above-mentioned software without installing any extra lighting software or controllers. For more details, please visit ASUS, GIGABYTE, MSI and AsRock official websites.
For more details on the Thermaltake Pacific DP100-D5 Plus & Pacific Core P5 DP-D5 Plus, please visit:
Pacific DP100-D5 Plus
https://www.thermaltake.com/pacific-dp100-d5-plus.html
Pacific Core P5 DP-D5 Plus
http://www.thermaltake.com/pacific-core-p5-dp-d5-plus.html
Where to Buy:
Pacific DP100-D5 Plus
TT Premium Asia –
https://asia.ttpremium.com/product/cl-w263-pl00sw-a/
TT Premium Australia –
https://ttpremium.com.au/product/cl-w263-pl00sw-a/
TT Premium China –
https://ttpremium.com.cn/product/cl-w263-pl00sw-a/
TT Premium Europe –
https://ttpremium.eu/product/cl-w263-pl00sw-a/
TT Premium Taiwan –
https://ttpremium.com.tw/product/cl-w263-pl00sw-a/