Thermaltake Releases High-Frequency
TOUGHRAM RGB DDR4 Memory Kit
4000MHz | 4266MHz | 4400MHz 16GB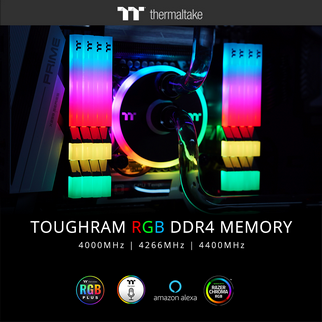 Taipei, Taiwan-Oct 31 st, 2019-Thermaltake, the leading PC DIY premium brand for Cooling , Gaming Gear and Enthusiast Memory solutions, today announced the release of the Thermaltake TOUGHRAM RGB DDR4 Memory Series which comes in new frequencies of 4,000MHz, 4,266MHz and 4,400MHz 2x8 GB modules, supported by Intel and AMD platforms. Featuring 10-layer PCB construction, 2oz copper inner layers and 10μ gold fingers, the TOUGHRAM RGB enhances overclocking performance and betters gaming experiences. The high-frequency memory kits are constructed with higher standard chips, which have been tested to achieve higher and more stable overclocks. Our latest module 4,400MHz and 4,000MHz was tested with Intel's Core i7 platform, ASUS ROG MAXIMUS XI GENE and MAXIMUS XI HERO motherboards and remained stable under load.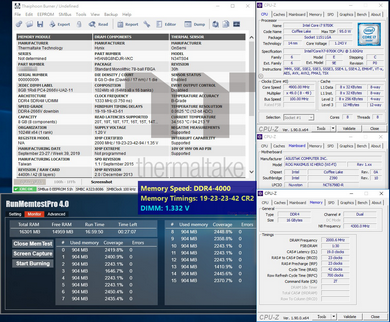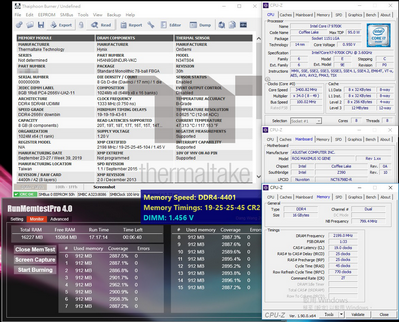 Thermaltake CEO Kenny Lin is excited to launch the newest addition to the TOUGRAM RGB Series. "We are glad to embrace the new era of high-frequency memory. With the rapid rise of esports, higher frequency ram is essential for faster and smoother performance. Level up your gameplay with the next level TOUGHRAM RGB DDR4 16GB Memory Kit in 4,000MHz, 4,266MHz, 4,400MHz." stated Thermaltake CEO Kenny Lin.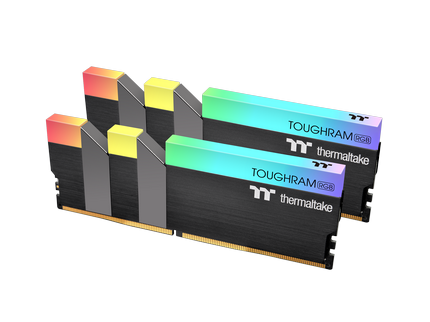 Thermaltake TOUGHRAM RGB DDR4 Memory Series 4,000MHz, 4,266MHz, and 4,400MHz come in black and are now available for pre-order on ttpremium.com. Please refer to the Thermaltake website or contact your local Thermaltake sales or PR representative for more information on pricing of the Thermaltake TOUGHRAM RGB DDR4 high-frequencies memory kits.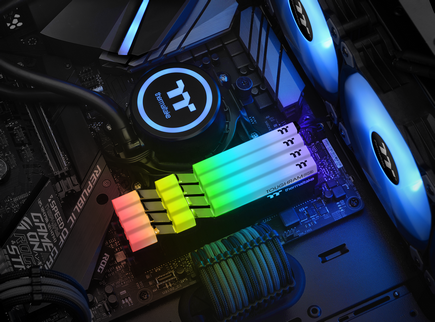 Features of the TOUGHRAM RGB DDR4 Memory Kit 4000MHz | 4266MHz | 4400MHz 16GB:
Tightly-Screened ICs
Memory chips are thoroughly-screened to provide optimal frequency and response time performance.

2oz Copper PCB
Specially optimized 10-layer PCB with 2oz copper inner layer provides enhanced electrical conduction to deliver uncompromised speed and reliability for maximum overclocking performance.

High Quality Gold Fingers
Use of 10μ gold fingers for enhanced durability and high wear resistance.

Aluminum Heat Spreader
Use of brushed aluminum heat spreader delivers exceptional heat dissipation to meet high-performance needs.

Illuminate and Impress
10 super-bright addressable LEDs deliver 16.8M full spectrum RGB color with dynamic lighting effects to bring your gaming system to life.

TT RGB PLUS Ecosystem
Light up your system with almost limitless possibilities and synchronize your TT RGB PLUS compatible products (CPU/VGA water blocks, AIO CPU coolers, PSUs, LED strips, gaming keyboards, headsets, mice and mouse pads) to create a RGB ecosystem that is truly unique to you.

Motherboard RGB Sync Ready
Designed to synchronize with ASUS Aura Sync, GIGABYTE RGB Fusion, MSI Mystic Light Sync and ASRock Polychrome. Supports motherboards equipped with 5V addressable RGB header, allowing you to control lighting effects directly from the above-mentioned software without installing any extra lighting software or controllers. For more details, please visit ASUS, GIGABYTE, MSI and ASRock official websites

Intel XMP 2.0 Ready
Overlock with ease and optimize system stability with a simple setting.

Availability, Warranty, Compatibility and Pricing
Thermaltake TOUGHRAM RGB DDR4 Memory Series 4,000MHz, 4,266MHz, and 4,400MHz are now available for pre-order on ttpremium.com. Thermaltake TOUGHRAM RGB DDR4 Memory Series are backed by a limited lifetime warranty for the RAMs, and supported by the Thermaltake worldwide customer service and technical support network. For up-to-date pricing of the Thermaltake TOUGHRAM RGB DDR4 Memory Series, please refer to the Thermaltake website or contact your local Thermaltake sales or PR representative.

For more details on the Thermaltake TOUGHRAM RGB DDR4 Memory Series please visit:
https://www.thermaltake.com/toughram-rgb-memoryddr4-4000mhz-16g-8g-x2.html
https://www.thermaltake.com/toughram-rgb-memoryddr4-4266mhz-16g-8g-x2.html
https://www.thermaltake.com/toughram-rgb-memoryddr4-4400mhz-16g-8g-x2.html

Where to Buy TOUGHRAM RGB DDR4 Memory Series:
TT Premium Global –https://www.ttpremium.com/product/toughram-rgb-memory-ddr4-4400mhz-16gb/
TT Premium Asia – https://asia.ttpremium.com/product/r009d408gx2-4400c19a/
TT Premium Australia – https://ttpremium.com.au/product/r009d408gx2-4400c19a/
TT Premium China – https://ttpremium.com.cn/product/r009d408gx2-4400c19a/
TT Premium Europe – https://ttpremium.eu/product/r009d408gx2-4400c19a/
TT Premium Taiwan – https://ttpremium.com.tw/product/r009d408gx2-4400c19a/