Thermaltake New Commander G Series
Tempered Glass ARGB Mid-Tower Chassis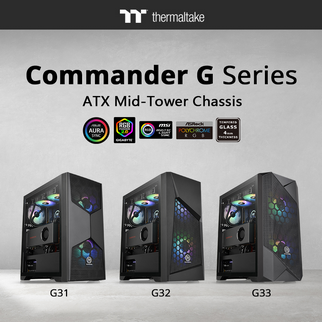 Taipei, Taiwan-November 15th, 2019-Thermaltake, a leading premium gaming tower manufacturer, is thrilled to announce a new compact design case line up- the Commander G Series Mid-Tower Chassis including G31, G32, and G33. The Commander G Series Tempered Glass ARGB Edition mid-tower chassis is a brand-new high airflow case designed with a special mesh front panel. This entry-level chassis comes with a preinstalled 200mm ARGB fan that can be controlled via motherboard synchronization software or the RGB switch on the I/O port. Located at the rear of the chassis there is another 120mm standard fan preinstalled for outstanding ventilation. Other outstanding features include a 4mm tempered glass panel, a riser GPU support bracket, and removable magnetic filters for overall exceptional pc performance which is the deal for both gamers and enthusiasts.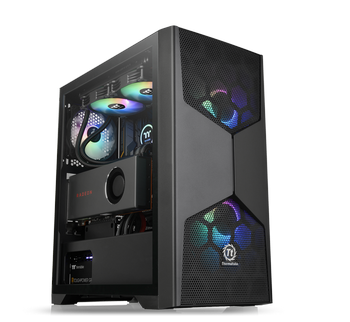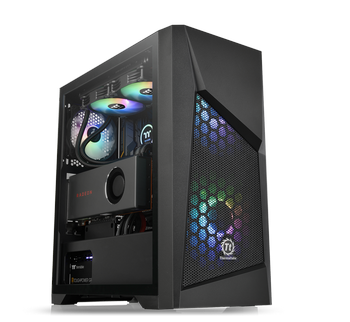 Features of Thermaltake Commander G Series Mid-Tower Chassis:
Sync with Motherboard RGB Softwares
The Commander G Series has been meticulously designed to synchronize with ASUS Aura Sync, GIGABYTE RGB Fusion, MSI Mystic Light Sync, and ASRock Polychrome. It supports motherboards that have a 5V addressable RGB header, allowing you to control the lighting directly from the above-mentioned software without needing to install any extra lighting software or controllers.

Tempered Glass Panel
The chassis comes with one 4mm tempered glass panel on the left side, thicker and more scratch resistant when compared to standard acrylic. On top of this, the enlarged window design enables you to display and admire all your components in their full RGB glory.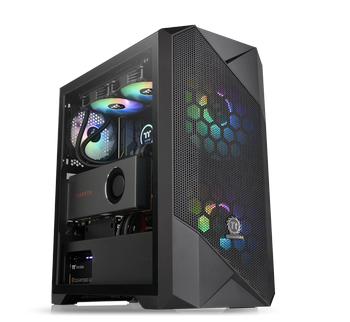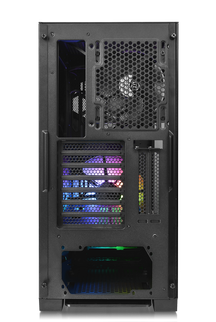 Vertical GPU Mount
Specially designed with a dual GPU placement option, the Commander G Series has the support for vertical graphic card layouts with dual PCI-E slot designs. The PCI-e riser cable is optional. Plus, the included riser GPU support bracket not only can prevent the graphic card from sagging but also helps to reduce the weight on the motherboard.

Excellent Dust Reduction
A handy magnetic fan filter on the top simply attaches for easy dust filtration and particulate protection. At the base of the chassis, additional fan filters provide excellent protection against both dirt and dust.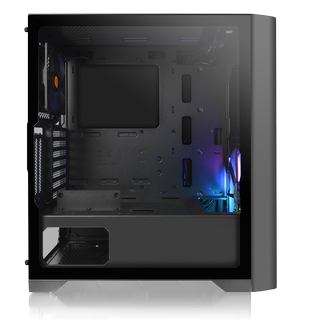 High-End Expansion Possibilities
Commander G Series has good expandability. It can support a CPU cooler with a maximum height of 165mm, two-way VGA placement of up to 300mm in length for horizontal and 45mm in width for vertical option, a power supply with a length of up to 200 (without HDD Rack) and RAM height limitation up to 40mm (with radiator series). Optimized for excellent cooling capability with one 200mm ARGB front fan and one 120mm rear fan preinstalled, the Commander G31 can house up to two 200mm at the front, two 140mm on the top, and one 140mm at the rear.

Handy I/O Ports
One USB 3.0 and two USB 2.0 , and one easy access RGB button on top-front panel to grand direct access when needed.

For more details on the Thermaltake Commander G Series Mid-Tower Chassis, please visit:
G31- https://www.thermaltake.com/commander-g31-tg-argb-mid-tower-chassis.html
G32- https://www.thermaltake.com/commander-g32-tg-argb-mid-tower-chassis.html
G33- https://www.thermaltake.com/commander-g33-tg-argb-mid-tower-chassis.html