Thermaltake View 51 Tempered Glass
ARGB Edition Full-Tower Chassis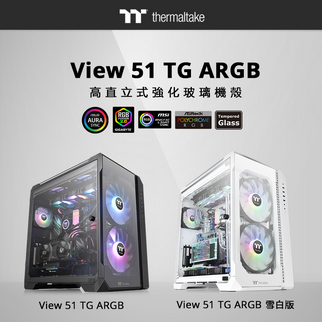 Taipei, Taiwan-January 3rd, 2020-Thermaltake, the leading PC DIY premium brand for Cooling, Gaming Gear, and Enthusiast Memory solutions, is thrilled to announce a new member of the View Series chassis - the View 51 Tempered Glass ARGB Edition full-tower chassis coming in both black and white versions. The I/O ports are positioned vertically on the right side of the front panel with tempered glass windows on its left, showing the two preinstalled 200mm ARGB fans, which work with the one 120mm ARGB fan on the rear side creating the perfect airflow. With a press of the RGB button alongside the I/O ports, the RGB fans can sync with motherboards from ASUS, MSI, GIGABYTE, and ASRock to display your own lightshow. View 51 TG's magical interior space design serves outstanding liquid cooling expansions and advanced cable management. This well-engineered full-tower chassis utilizes a swing-out side panel and a total of three 4mm tempered glass panels allow its users to demonstrate their DIY handwork and showcase their internal components. With the support of the latest architecture, the View 51 TG ARGB Edition is not only fascinating in its appearance but provides endless possibilities for pc lovers.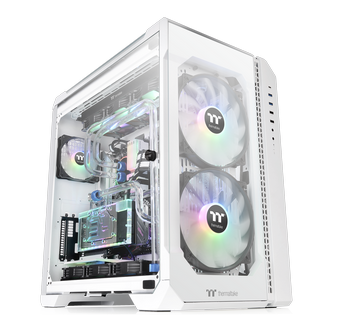 TT Premium
To continue achieving the corporate mission of delivering the perfect user experience, Thermaltake developed "TT Premium" with the essence of combining supreme quality products with a new logo design. TT Premium is far more than just a guarantee of quality. Behind the name, it represents the passion in DIY, Modding and Thermaltake's desire to be the most innovative brand in the PC hardware market. To satisfy the demand of the high-end PC users, TT Premium follows its core values of Excellent Quality, Unique Design, Diverse Combinations and Boundless Creativity to provide a high-performance PC product for every enthusiast.

Tt LCS Certified
Tt LCS Certified is a Thermaltake exclusive certification applied to only products that pass the design and hardcore enthusiasts standards that a true LCS chassis should be held to. The Tt LCS certification was created so that we at Thermaltake can designate to all power user's which chassis have been tested to be best compatible with extreme liquid cooling configurations to ensure you get the best performance from the best features and fitment.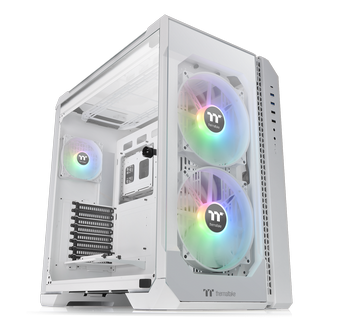 Features of Thermaltake View 51 Tempered Glass ARGB Edition Full Tower Chassis:
Three-Sided 4mm Thick Tempered Glass Panels with Swing Door Design
Premium-quality 4mm thick tempered glass guarantees the durability of the panels and adds overall strength to the chassis. Swing Door allows users to demonstrate their DIY spirit and enjoy the ultimate internal component visibility. Enjoy building with a fully modular design at ease and simple removal of swing door for full access.

Modern and Handy I/O Ports
The I/O Ports of View 51 Tempered Glass ARGB Edition Full-Tower Chassis features two USB 3.0, two standard USB 2.0, and one Type-C ports providing direct access points when needed. The RGB button can cycle through seven different lighting modes and a range of different color options.

Vertical GPU Mount
Specially designed with dual GPU placement options, the View 51 TG ARGB has support for both vertical and horizontal graphics card layouts. With dual PCI-E slot designs (and an optional PCI-e riser cable), the included riser GPU support bracket can not only prevent the graphics card from sagging, but also help reduce the overall weight on the motherboard.

Excellent Liquid Cooling Support
The View 51 TG ARGB Edition has plenty of space for advanced AIO/DIY liquid cooling components and supports all kinds of AIO liquid cooling solutions. It is able to hold up to triple 360mm custom liquid cooling radiators and up to 360mm AIO liquid coolers. Moreover, the case design is optimized for providing users a quick way to access the drain valve without having to tilt the entire PC when draining coolant from the loop. Most importantly, the View 51 TG ARGB Edition maximizes airflow with two built-in 200mm 5V ARGB fans and one 120mm 5V ARGB fan. Expansion options can be up to two 200mm fans on the top, combined with three bottom mount 120mm fan locations and three fans on the right.

Superior Hardware Support
The View 51 TG ARGB contains excellent expandability options, allowing you to build the most high-end system you can dream of. It can support motherboards up to a standard CEB, a CPU cooler with a maximum height of 175mm, vertical and horizontal GPU configurations up to 440mm in length (without water pump) and 300mm in length (with water pump), a power supply with a length of up to 200mm, and two 2.5"/3.5" (with HDD cage) and two 2.5" (with HDD bracket) storage devices.

Availability, Warranty, and Pricing
Thermaltake View 51 Tempered Glass ARGB Edition Full-Tower Chassis will be available for purchase in Q1 2020 via the Thermaltake worldwide network of authorized retailers and distributors. It is backed by a three-year warranty and supported by the Thermaltake worldwide customer service and technical support network. For up-to-date pricing of the chassis, please refer to the Thermaltake website or contact your local Thermaltake sales or PR representative.

For more details on Thermaltake View 51 Tempered Glass ARGB Edition Full-Tower Chassis , please visit:
White- https://www.thermaltake.com/view-51-tempered-glass-argb-snow-edition.html
Black- https://www.thermaltake.com/view-51-tempered-glass-argb-edition.html