Thermaltake Launches AH T200 Micro Chassis
Small but Powerful

Taipei, Taiwan-June 2nd, 2020-Thermaltake, the leading PC DIY premium brand for Cooling, Gaming Gear, and Enthusiast Memory solutions, just launched the AH T200 Micro Chassis, which come in both black and white versions. Not long ago, we presented our first-ever military-inspired design, the AH T600 Full-Tower Open Frame Chassis. It is a compacted version of the AH T600; for those who were looking for a smaller sized, non-conventional chassis, now is the ideal time to take a look into this chassis. The chassis comes with one type-c connection, two USB 3.0 ports, and one HD audio port. The entire model is forged with a sturdy, air-force style architecture, with the three 3mm tempered glass windows at the front-top panel and solid side vents on each end. Constructed with one 4mm tempered glass hinged door side panel on each side, the AH T200 Micro Chassis not only gets extra airflow and interior accessibility but is also more visually appealing. The chassis can hold up to four 140mm fans at the front and top, or users can install a 280mm radiator at the front. With its dismantlable modular design, it allows users to create their own style and to mod as they please. If you're looking for a non-standard, compact chassis, then AH T200 Micro Chassis will be the one to pick.
For more product and 2020 Thermaltake EXPO June information, please visit: https://expo2020.thermaltake.com/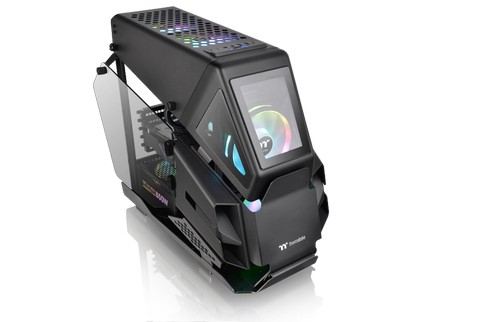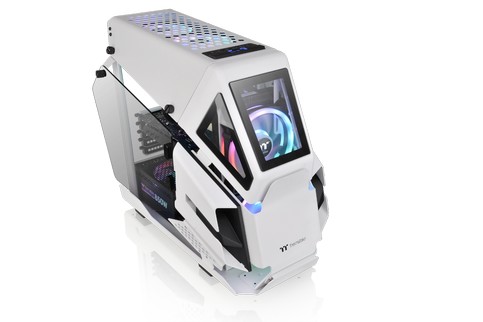 TT Premium
To continue achieving the corporate mission of delivering the perfect user experience, Thermaltake developed "TT Premium" with the essence of combining supreme quality products with a new logo design. TT Premium is far more than just a guarantee of quality. Behind the name, it represents the passion in DIY, Modding and Thermaltake's desire to be the most innovative brand in the PC hardware market. To satisfy the demand of the high-end PC users, TT Premium follows its core values of Excellent Quality, Unique Design, Diverse Combinations and Boundless Creativity to provide a high-performance PC product for every enthusiast.

Features of the AH T200 Micro Chassis:
Open Frame Steel Design with a Five Tempered Glass Windows
The AH T200 Micro Chassis is constructed with steel and five tempered glass. It comes with three 3mm tempered glass windows on the front-top panel, allowing users to show off their PC components, and the two 4mm hinged door side panels that enable users to display their components as they pleased while the open rear end allows extensive expandability and modding possibilities.

Convenient I/O Ports
The I/O Ports of the AH T200 Micro Chassis features two USB 3.0, one type C connection, one HD Audio, rest button, and a stylish power button providing direct access when needed.

Supports All In One CPU Liquid Cooling Solutions
The AH T200 supports AIO liquid cooling components as it can hold up to one 280mm AIO liquid cooler at the front.

Hardware Support
The chassis is designed with excellent expandability options; it can support motherboards up to a Micro ATX, a CPU cooler with a maximum height of 150mm, GPU configurations up to 320mm in length, a power supply with a diameter of up to 180mm, and two 3.5" or three 2.5" storage devices.

Availability, Warranty, and Pricing
Thermaltake AH T200 Micro Chassis will be available for purchase in Q3 2020 via the Thermaltake worldwide network of authorized retailers and distributors. It is backed by a three-year warranty and supported by the Thermaltake worldwide customer service and technical support network. For up-to-date pricing of the chassis, please refer to the Thermaltake website or contact your local Thermaltake sales or PR representative.