Thermaltake Introduces the
ToughDesk 500L RGB Battlestation Gaming Desk

Taipei, Taiwan-June 5th, 2020-Thermaltake, the leading PC DIY premium brand for Cooling, Gaming Gear, and Enthusiast Memory solutions, introduces the ToughDesk 500L RGB Battlestation Gaming Desk, which is an L-shaped table with three stands, a main desk along with a side table attached to it. The new technology and extensive functions of the desk include electric height adjustment control, ample cable management space, and built with a full surface RGB mouse pad that is balanced for speed and control. Dimensions of the main desk are 62.99" (160cm) in length and 31.49" (80cm) in width, and for the side table, dimensions are 31.49" (80cm) in length and 23.62" in width (60cm) covered by one full surface RGB mouse pad and one non-RGB mouse pad for the side table. The illuminating full surface mouse pad comes with 16.8M RGB color combinations and seven dynamic lighting effects; brightness, speed, and direction of the lighting effects are customizable via the iTAKE engine software. The mouse pad's lighting effects can be synced with TT RGB PLUS compatible Thermaltake products to complete the ecosystem in uniformity. The mouse pad also works with Razer Chroma, enabling gaming and RGB lighting effect synchronizations. Moreover, the ToughDesk 500L RGB Battlestation Gaming Desk is designed for multi-monitor gaming setups, which allows users to work and game with space, style, and comfort!
For more product and 2020 Thermaltake EXPO June information, please visit: https://expo2020.thermaltake.com/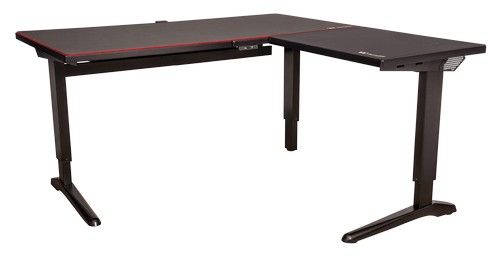 Features of the ToughDesk 500L RGB Battlestation Gaming Desk:
Extended Gaming Surface
The extended side table allows users to place a full tower chassis and display their PC components without interfering with the monitors and game space on the main desk.
 
Electrical Height Adjustment
Press the electrical height adjustment buttons on the digital control box to adjust between 27.5"/70cm to 43.3"/110cm, in both sitting and/or standing positions.
 
Height Memory Function
ToughDesk 500L RGB is able to memorize four height levels that users like, and with the memory buttons on the digital control box, users can adjust the desk height to their suitable position in no time.

Full Surface RGB Mouse Pad Design
The full surface mouse pad design allows users to balance their speed and control while gaming. The large mouse pad that covers the main desk comes with 16.8M RGB color illumination and seven dynamic lighting effects; brightness, speed, and direction of the lighting effects are customizable via the iTAKE engine software. The side table will be covered in a non-RGB mouse pad with the same touch that allows users to highlight their chassis in all sizes.
 
High Load Capacity
The sturdy desk provides unrivaled stability that certifies the desk to achieve a maximum load of 330 pounds (150kg), which allows users to set up their battle stations however they want.
 
Cable Management
Long length cable storage area allows users to sort out the cables easily and conveniently while keeping the workspace clutter-free.
 
Availability, Warranty, and Pricing
The ToughDesk 500L RGB Battlestation Gaming Desk will be available for purchase in September. Gaming desks are backed by a two-year warranty and supported by the Thermaltake worldwide customer service and technical support network. For up-to-date pricing of the new gaming headsets, please refer to the Thermaltake website or contact your local Thermaltake sales or PR representative.