Riing 12 RGB Radiator Fan TT Premium Edition
The latest Riing 12 LED RGB Radiator Fan TT Premium Edition is a patented LED circular 256 multicolored 120mm radiator fan with Riing RGB Software. Through the software, users can easily adjust fan speed as well as fan colors for up to 16 digital fan hubs which are 48 Riing RGB fans. The fan blades are optimized to generate large air volume and achieve the best cooling performance. In addition, the Riing RGB fan features hydraulic bearing which guarantees ultra-low noise. The four corners of the fan are also designed with anti-vibration pads to strengthen the stability during operation.
Patenetd Design
The patented LED ring maintains color and brightness uniformity. The lighting effect is visible from all directions and adds aesthetics to the chassis.

US Patent application : 14/702,806
Riing RGB Software
The Riing RGB software allows users to connect with a maximum of 16 digital fan hubs. By this way, users can easily adjust the fan speed and the fan colors. Most importantly, it provides users with the most convenient method to monitor the operation status of the fans. The RGB software supports 6 languages.
Download Riing RGB Software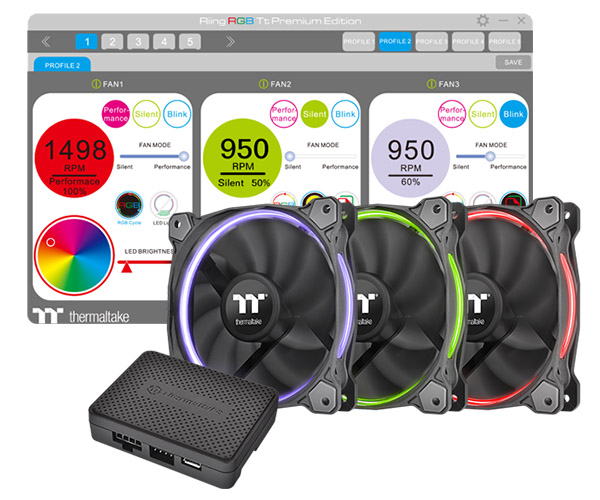 Riing RGB Software – Select a Fan Hub and Set up a Profile
The number of each fan hub is showed at the top left of the user interface. At the top right hand corner, users will find profiles. Users are allowed to set up a maximum of five profiles. By the control panel, users can adjust the Fan Speed Mode and LED Lighting Mode for the corresponding fan. When the setting is done, users need to click "SAVE" to apply it.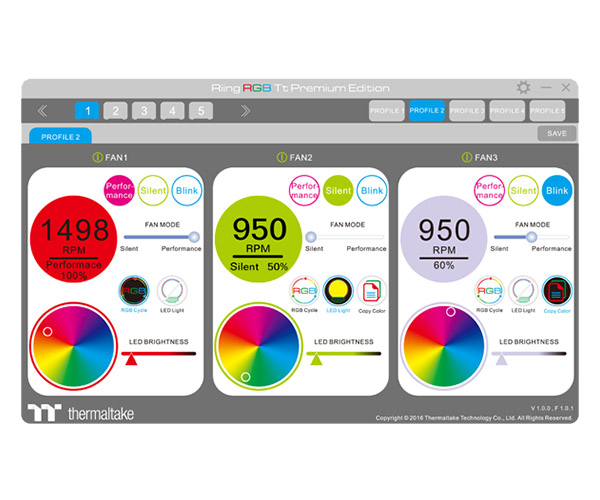 Riing RGB Software – Fan Speed Mode
The control panel is designed with a function that allows users to change the fan speed to either "Performance Mode" or "Silent Mode". Performance Mode is 500~1400 R.P.M, Silent Mode is 500~1000 R.P.M. By dragging the "FAN MODE" bar, users can freely adjust the maximum fan speed between two modes. Please see the fan duty cycle specification below: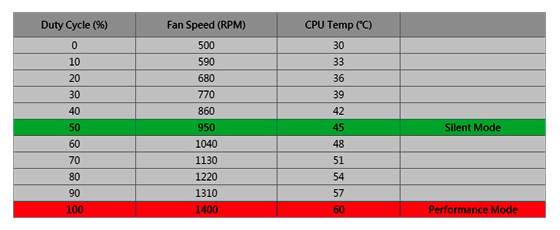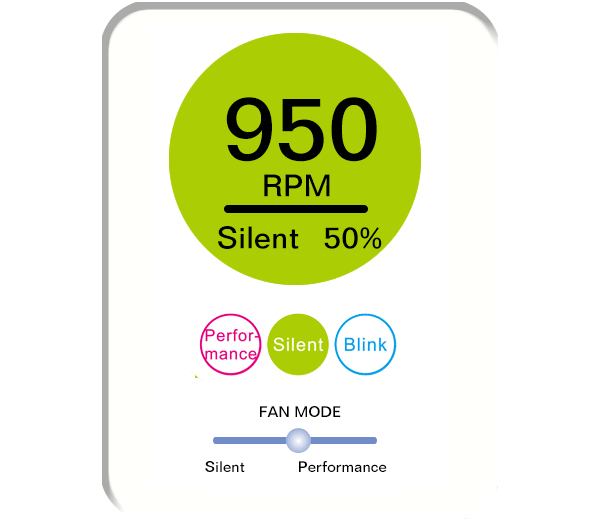 Riing RGB Software – LED Lighting Mode
The "Color Palette" enables users to freely pick a color for the fans. Alternatively, users can choose "RGB Cycle" to switch to a 256 multicolored mode. The control panel is also designed with a "LED Brightness" bar, allowing users to adjust the lighting effect for each fan. Moreover, by clicking "Copy Color", users can readily apply the color of the first fan to the rest of fans.
Riing RGB Software – Fan Alert
The real-time fan warning alert is another featured function of the software. Once the fan stops operating, the control panel of the failed fan will be grey out.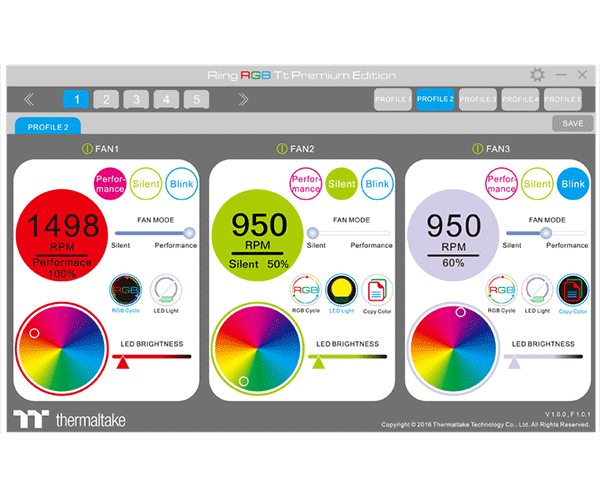 Digital Fan Hub
On the back side of each fan hub, there is a DIP switch which is convenient for users to set a number for the controller.
Eleven Fan Blade Design
Eleven fan blades are engineered to generate large volumes of air to cool the system and make a perfect balance between silent and performance.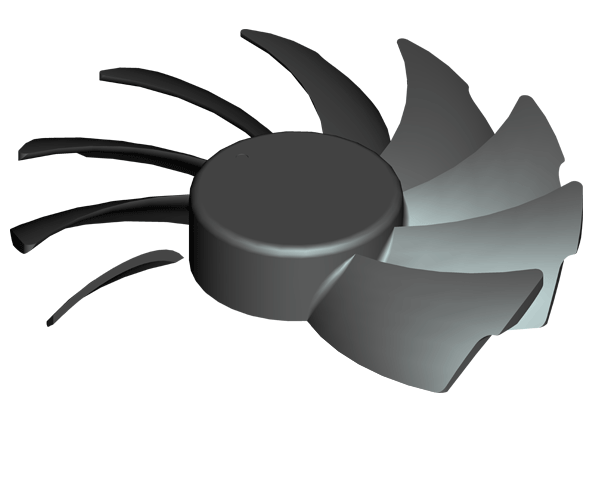 Hydraulic Bearing with Low-Noise Design
The hydraulic bearing self-lubricates with a high-quality, friction-reducing substance which lowers operation noise and improves efficiency. The seal cap prevents lubricant leakage and improves the lifespan of the unit.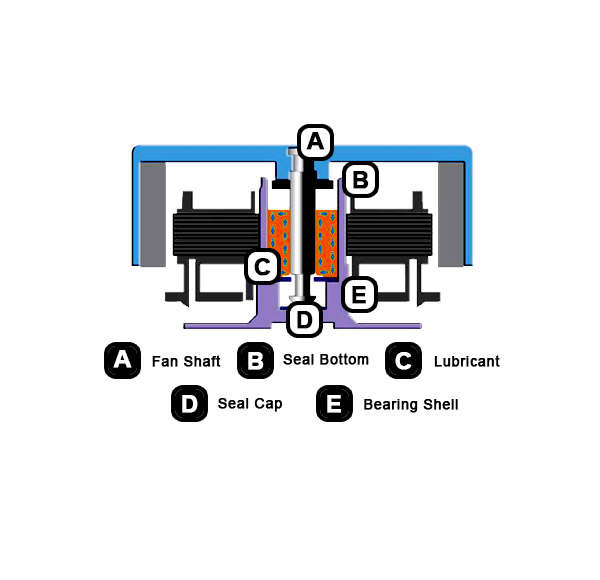 Wind Blocker Frame
To achieve maximum cooling performance in all applications, the wind blocker frame is designed to direct airflow towards the middle section of the blade, thereby creating a compression effect and blocking any air from escaping. This special design reduces the blade's noise and vibration, creating a perfect balance between power and sound.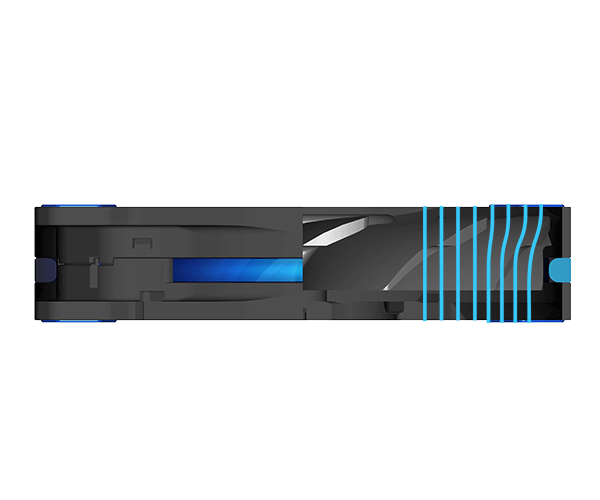 Anti-Vibration Mounting Systems
In-mold injection anti-vibration rubber pads provide a hassle-free usage with 80% protection coverage for all corners.
More Information
P/N
CL-F049-PL12SW-A
Fan Dimension
120 x 120 x 25 mm
INTERFACE
USB 2.0 connectors (9 Pin)
System compatibility
Windows 7 / 8 / 8.1 / 10
Started Voltage
9.0 V
Rated Current
0.11 A
Rated Voltage
12 V
Power Input
1.32 W
Fan Speed
500 ~ 1400 R.P.M
Max. Air Pressure
1.113 mm-H2O

Max Air Flow
48.79 CFM
NOISE LEVEL
24.8 dB-A
Bearing Type
Hydraulic Bearing

Life Expectation
40,000 hrs,25℃
Weight
158 g

Other
Package: 3 x Fans and 1 x Fan Hub
Software: Riing RGB Software

This guy won our TT Riing Fan RGB premium kit and to say thanks to Tt, he did a great videoreview ;)
Thank for the support Daniele.

<More>
User Manual
File Name
Description
Size
Version
Release Date
Drivers & Software
File Name
Description
Size
Version
Release Date