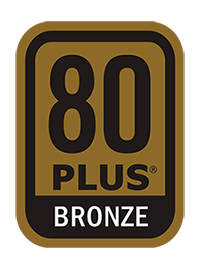 ATX 3.0 & PCIe Gen 5.0 Ready
Smart BM3
Bronze
550W / 650W / 750W / 850W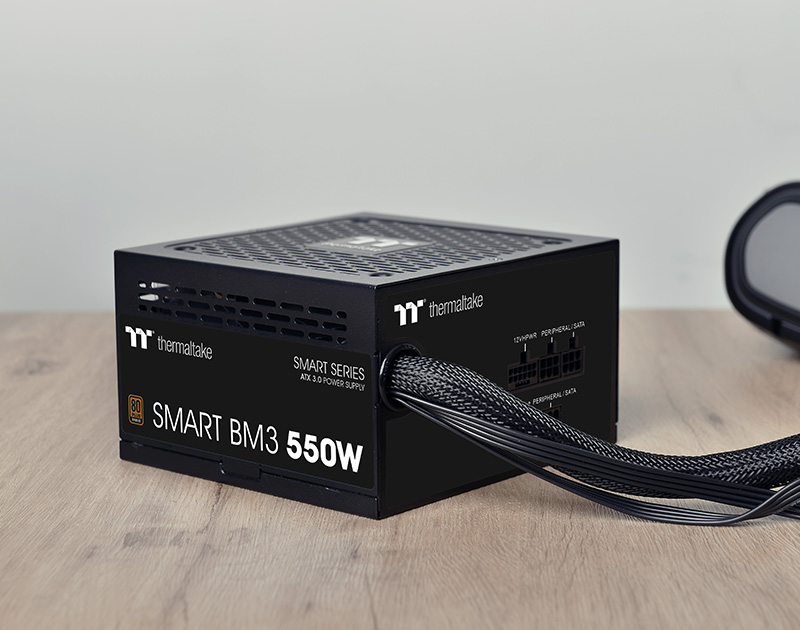 Power Up the Next Generation Hardware
Smart BM3 80 PLUS Bronze (550W/650W/750W/850W) certified semi modular PSU is designed to meet ATX 3.0 standards, it also comes with one PCIe Gen 5.0 (12VHPWR) connector to support modern graphics cards. With an ample 5-year warranty, the Smart BM3 series is able to satisfy the market, where value-oriented users are looking for a new power supply with all the latest features.
Fully Compatible with Intel ATX 3.0 Standards
Smart BM3 series is fully compatible with Intel ATX 3.0 Specifications which supports up to 200% power excursion, reaches 60% low load efficiency and complies with required power supply timing standards.
ATX 3.0
ATX 2.0
Total power excursion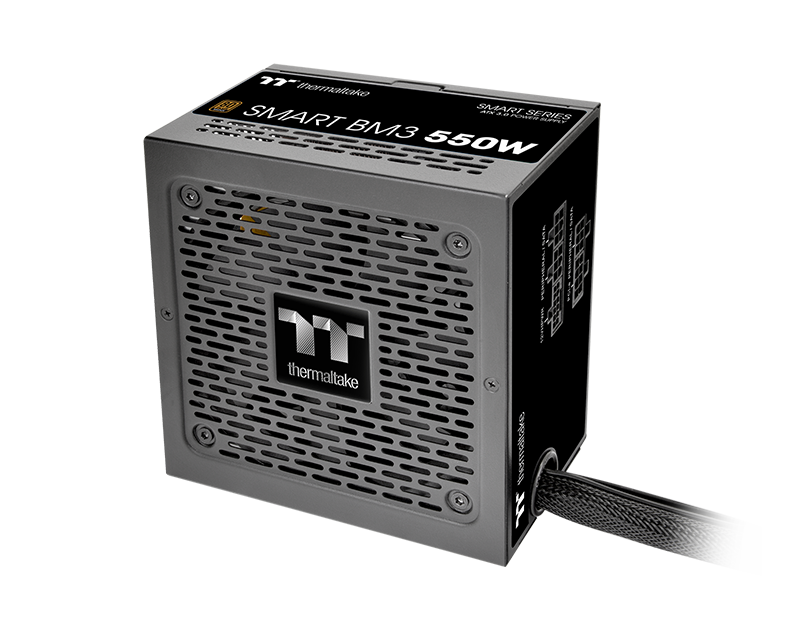 16pin Connector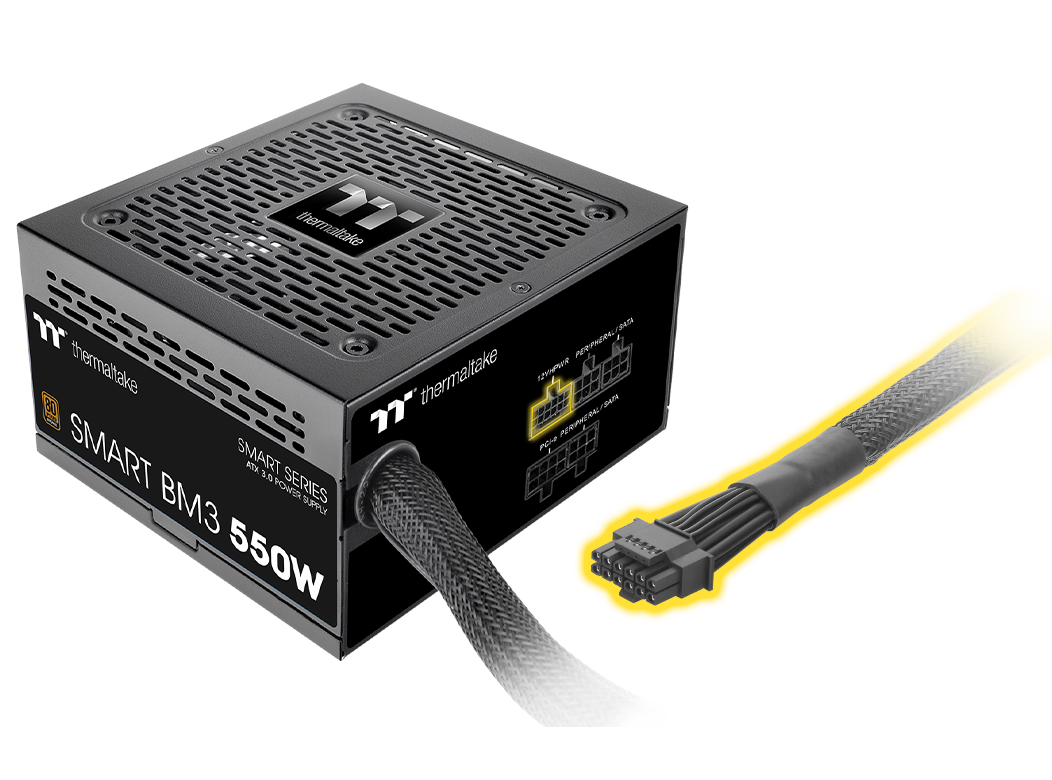 PCIe Gen 5.0 Ready
Smart BM3 Bronze series comes with a 16-pin connector to offer powerful and stable performance allowing the PSU to natively run next-generation GPUs.
The wattage marked on the 12VHPWR's connector is the recommended wattage. (Ref. Intel design guideline)
The native 16-pin (12VHPWR) PCIe connector of the Smart BM3 550W can deliver up to 300W for PCIe 5.0 graphics cards.




Note:
1. Recommended wattage is an estimation of system power demand. Actual power demands may vary based on specific components, usage, and many other factors.
2. Please follow the recommended power requirements from the GPU manufactures before using the 12VHPWR cable.
Made to Comply with the Latest Graphics Cards
As the power consumption of graphics cards increase, so has their demand for power. The Smart BM3 series is designed to support NVIDIA and AMD graphics cards, it supports 8-pin PCIe cables for AMD graphics cards & entry RTX 40 series graphics cards, it also comes with a 1 x 16-pin connector for RTX 40 series cards that need a PCIe Gen 5.0 connector, ready to supply the graphics cards according to their different ways of connections.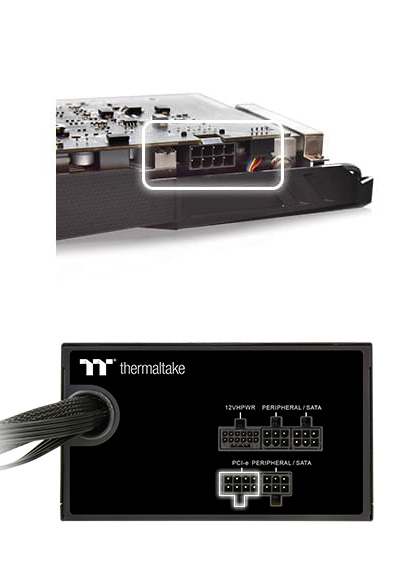 1 x 8-pin GPU Power Connector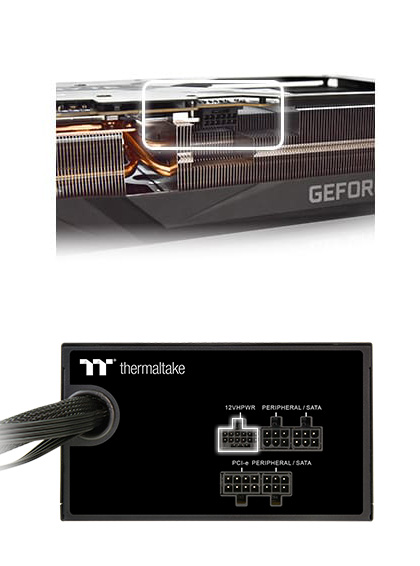 1 x 16 pin GPU Power Connector
Be Smart, Stay Quiet
Featuring a 120mm FDB fan to deliver excellent airflow. Furthermore, with the Smart Zero Fan function the fan will not spin until the load exceeds 20% of the power supply, minimizing undesired noise.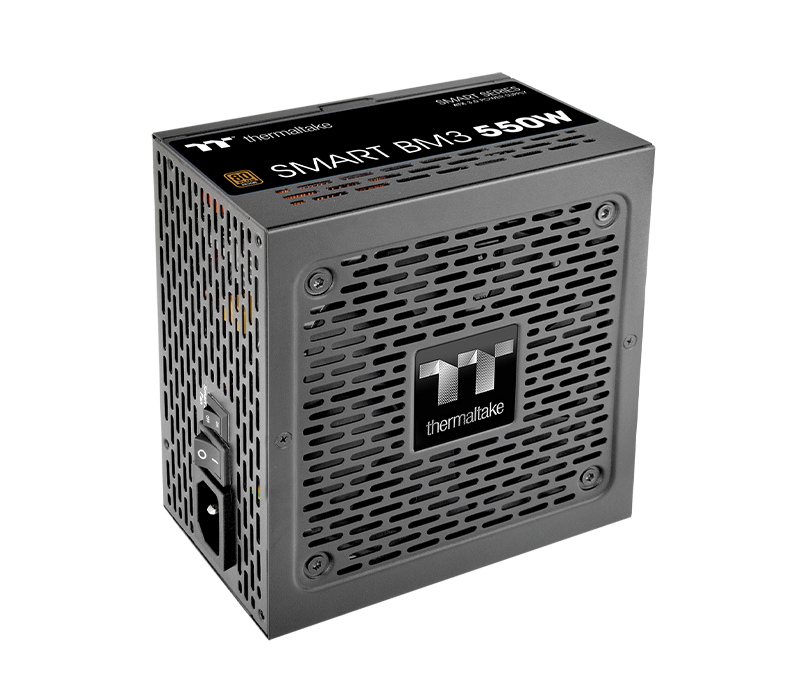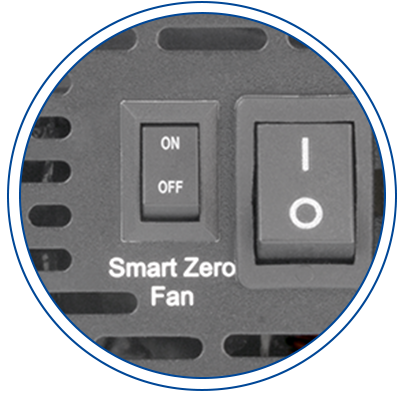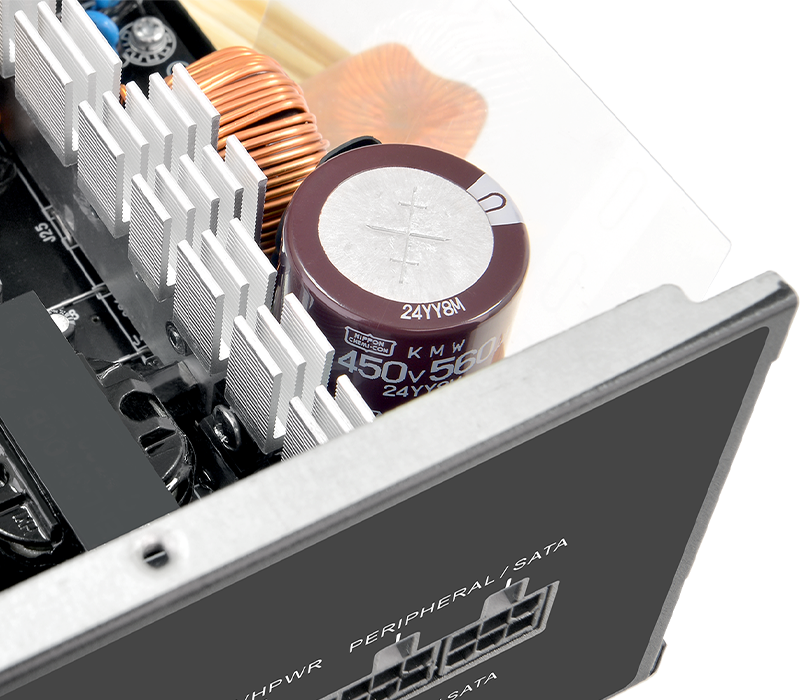 High Quality Japanese 105°C/221°F Main Electrolytic Capacitor
High quality Japanese main electrolytic capacitor greatly improves the power supplies durability and ensures the Smart BM3 series is stable and reliable.
High Amperage Single +12V Rail & DC to DC Design
Powerful single +12V rail can properly deliver the power you need for the best compatibility. The use of LLC and DC to DC circuit design provides very stable operation and enhanced voltage regulation.
AC INPUT

Input Voltage: 100-240V~
Input Current: 12A-5A
Frequency: 50Hz/60Hz

DC OUTPUT

+3.3V

+5V

+12V

-12V

+5VSB

Max Output Current

16A

16A

45.85A

0.3A

3A

Max Output Power

105W

550W

3.6W

15W

Total Power

550W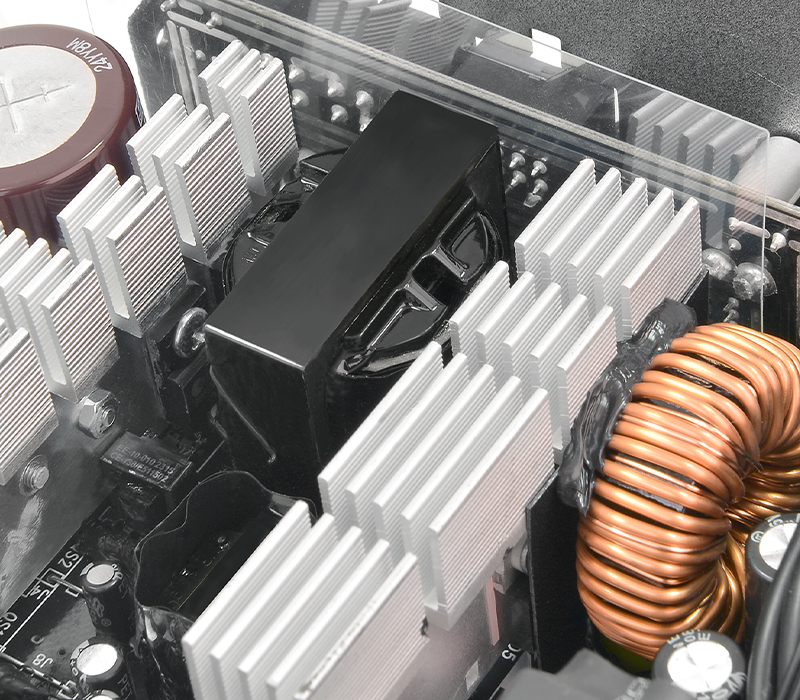 Built-in Industrial Grade Protection
To protect the hardware, Smart BM3 is built with industry grade protections: OCP(Over Current Protection), OVP (Over Voltage Protection), UVP(Under Voltage Protection), OPP(Over Power Protection), SCP(Short Circuit Protection), OTP(Over Temperature Protection).
OCP

Over Current Protection

OVP

Over Voltage Protection

UVP

Under Voltage Protection

OPP

Over Power Protection

SCP

Short Circuit Protection

OTP

Over Temperature Protection
Semi Modular Flat Cable Design
Soft flat black cables come with sleeve cabling, designed to make cable installation an easy task while fully powering the system at optimal voltages.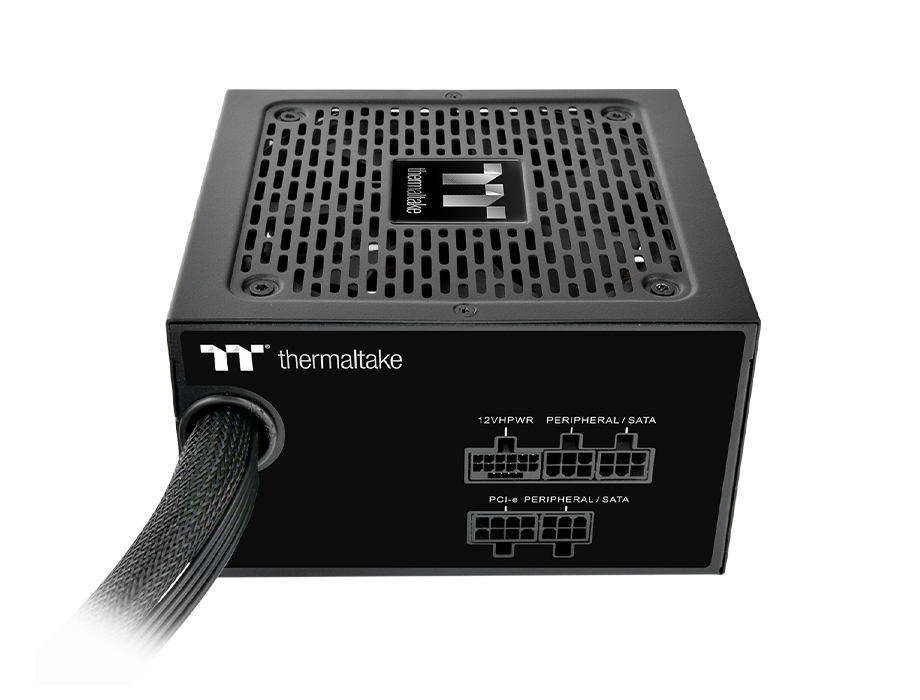 Connector Type
Connector Quantity
Cable Quantity
Cable Length
Main Power
(24Pin)
X 1
X 1
600mm
ATX 12V
(4+4Pin)
X 2
X 1
650mm+150mm
PCIe
(6+2Pin)
X 2
X 1
500mm+150mm
PCIe
(12+4Pin)
300W
X 1
X 1
600mm
SATA
(5Pin)
X 3
X 1
500mm+150mm +150mm
Peripheral
(4Pin)
X 7
X 1
500mm+150mm +150mm
X 1
500mm+150mm +150mm+150mm
80 PLUS Bronze-Certified and Intel C6/C7 States Ready
Smart BM3 Bronze series saves energy through its high energy efficiency up to 85% and is certified to 80 PLUS® Bronze. It has been optimized to work with all generations of Intel's processors to achieve maximum energy saving.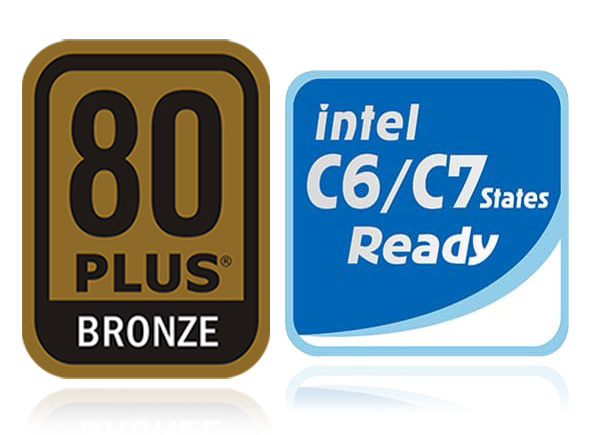 More Information

| | |
| --- | --- |
| P/N | PS-SPD-0550MNFABx-3 |
| watts | 550W |
| Model | SPD-550AH2CLB |
| Max. Output Capacity | 550W |
| Color | Black |
| Dimension ( W / H / D ) | 150mm(W)x86mm(H)x140mm(D) |
| PFC (Power Factor Correction) | Active PFC |
| Power Good Signal | 100-150 msec |
| Hold Up Time | > 17msec |
| Input Current | 12A-5A |
| Input Frequency Range | 50Hz/60Hz |
| Input Voltage | 100-240V~ |
| OPERATING TEMPERATURE | 5°C to + 45°C |
| Operating Humidity | 20% to 85%, non-condensing |
| Storage Temperature | -40°C to + 55°C |
| Storage Humidity | 10% to 95%, non-condensing |
| COOLING SYSTEM | 12cm FDB Fan |
| Efficiency | Meet 80 PLUS® Bronze at 115Vac input. |
| MTBF | 100,000 hrs minimum |
| Safety Approval | CE/UKCA/LVD/UKCA/FCC/ICES/TUV/CB/cTUVus/BSMI/CCC |
| PCI-E 6+2pin | 2 |
| PCIe 12+4pin | 1(300w) |
| PROTECTION | OCP/OVP/UVP/OPP/OTP/SCP |
User Manual
File Name
Description
Size
Version
Release Date