Thermaltake Announces the Divider 370 and 170
TG ARGB Chassis
Optimized Airflow

Taipei, Taiwan-June 24th, 2022-Thermaltake, the leading PC DIY premium brand for Case, Cooling, Gaming peripherals and enthusiast memory solutions, is pleased to announce the Divider 370 TG ARGB Mid Tower Chassis and Divider 170 TG ARGB Micro Chassis, adding new members to the Divider Series. The new models emphasize on the ultimate airflow performance with a large airflow-optimized mesh front panel and the pre-installed ARGB PMW fans to offer better heat dissipation. The Divider 370 and 170 also maintain the excellent features of Divider series, the modern design with the unique panel that comprised a steel panel and a 3mm scratch resistant tempered glass window on the left side, offers a visually divided look while offering a great view of interior. Divider 170 and Divider 370 are now be available in black and white.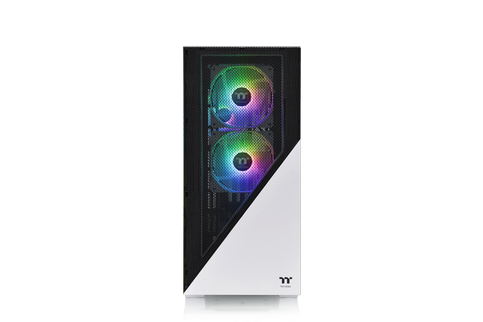 Divider 370 and 170 are the next-gen gaming PC case, the ample interior space to support hardware and cooling solution can satisfy the demands of gaming enthusiasts. The Divider 370 has a room for E-ATX motherboard (12"x13") and up to a 360mm radiator at the front and top, it also comes with three preinstalled three hydraulic bearing 120mm ARGB PWM fans which can effectively lower the operation noise and enhance the thermal efficiency with excellent reliability. The distinguished ARGB PWM fan is designed to synchronize with ASUS Aura Sync, GIGABYTE RGB Fusion, MSI Mystic Light Sync, and ASRock Polychrome. It supports motherboards with a 5V addressable RGB header, allowing you to control the lights directly from the software mentioned above without installing any extra lighting software or controllers. For Divider 170, it can support up to a Micro ATX motherboard and a 280mm radiator at the front. Besides, the brilliant built-in two hydraulic bearing 120mm ARGB PWM fans allow the system to achieve better cooling performance.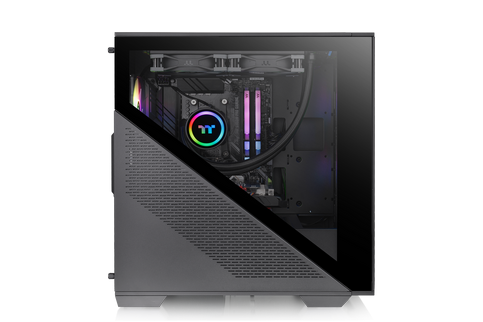 What's more, full length built-in PSU cover of Divider 170 and Divider 370 helps the users maintain clean and organized cable management and not to obstructing the air flow in the case, it is designed to provide sufficient space to hide the unsightly cables and let your flawless setup to take the center stage. In addition for Divider 370, the pre-installed GPU holder enables vertical GPU installation and prevents graphics card from sagging.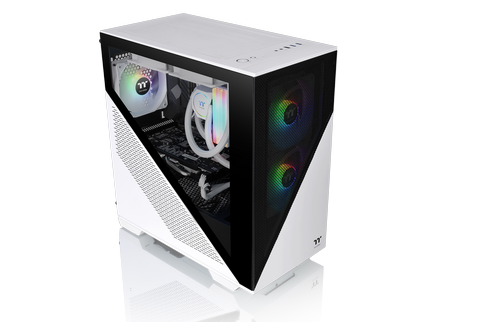 With the stylish unique appearance, user-friendly functions, ultimate cooling solution, and upgradable system, Divider 170 TG ARGB Micro Chassis and Divider 370 TG ARGB Mid Tower Chassis allow you to build your epic build in sleek and sturdy way.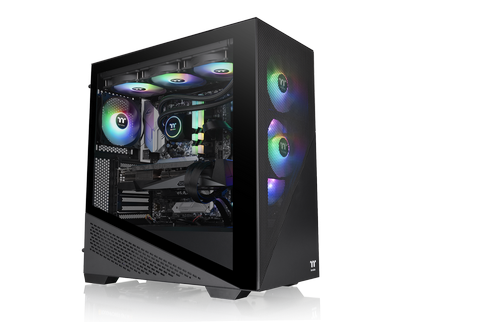 Features of the Thermaltake Divider 370 TG ARGB Mid Tower Chassis:
Unique Side Panels Design with a Tempered Glass Window
The exceptional feature of the Divider 370 TG ARGB is that the unique panel that comprised of a steel panel and a 3mm tempered glass window on the left side. The side panel is visually divided to create a unique look, and it is tool-free and easy to remove. Tempered glass window is thicker and more scratch-resistant compared to standard acrylic.

Mesh Front Panel
The Divider 370 TG ARGB comes with a large airflow-optimized stylish mesh panel at the front, offering a unique divided design and additional air intake through the mesh.

Three Preinstalled ARGB PWM Fans
The Divider 370 TG ARGB comes with three pre-installed hydraulic bearing 120mm ARGB PWM fans which can effectively lower the operation noise and enhance thermal efficiency. The fans' lighting effect can be either controlled by the physical RGB button on the I/O panel or motherboard software from ASUS, GIGABYTE, MSI, and ASRock. There are 27 RGB lighting modes to play around with when using the physical RGB button, and it's simple to switch between physical button control and motherboard software control by long pressing the RGB button for three seconds.

PSU Cover & Pre-Installed Vertical GPU Holder
The built-in PSU cover is designed to hide unsightly cables with overall good ventilation. The pre-installed GPU holder enables vertical GPU installation, but also helps reduce the weight on the PCI-E slots.

Excellent Dust Filtration
The Divider 370 TG ARGB has a well-designed removable magnetic fan filter on the top and the inner right side. At the base, the removable filter provides excellent dust protection and dirt reduction, ensuring a dust-free environment.

Air Intake and Exhaust
The cooling performance of the Divider 370 TG ARGB is excellent. The large airflow-optimized mesh panel at the front allow optimal air intake. Cooling exhausts are located at the rear of the case. On the top and right side, there are venting mechanisms for air intake or exhaust depends on the user's overall PC layout design.

Excellent Hardware Support & Cooling Solution
The Divider 370 TG ARGB has great hardware support. It can support a CPU cooler with a maximum height of 170mm, VGA with maximum length of 400mm (without radiator), a power supply with a length of up to 230mm (with HDD Cage), two 3.5" HDDs with two 2.5" SSDs or a total of four 2.5" SSDs. When it comes to cooling, the Divider 370 TG ARGB comes preinstalled with three hydraulic bearing 120mm ARGB PWM fans which can effectively lower the operation noise and enhance the thermal efficiency, you can also choose to put three 140mm fans at the front and one 120mm fan at the rear. Moreover, it can hold up to three 120mm fans at the top, two 120mm fans on the right of the motherboard side. For radiator compatibility, it can support up to 360mm at the front and top.

Handy I/O Ports
Two USB 3.0 and one HD Audio jack is placed on the top panel to grant direct access when needed.

Sync with Motherboard RGB Software
Designed to synchronize with ASUS Aura Sync, GIGABYTE RGB Fusion, MSI Mystic Light Sync, and ASRock Polychrome. It supports motherboards with a 5V addressable RGB header, allowing you to control the lights directly from the software mentioned above without installing any extra lighting software or controllers. For more details, please visit ASUS, GIGABYTE, MSI, and ASRock official websites.

Features of the Thermaltake Divider 170 TG ARGB Micro Chassis:
Unique Side Panel Design with a Tempered Glass Window
The exceptional feature of the Divider 170 TG ARGB is that the unique panel that comprised of a steel panel and a 3mm tempered glass window on the left side. The side panel is visually divided to create a unique look, and it is tool-free and easy to remove. Tempered glass window is thicker and more scratch-resistant compared to standard acrylic.

Mesh Front Panel
The Divider 170 TG ARGB comes with a large airflow-optimized stylish mesh panel at the front, offering a unique divided design and additional air intake through the mesh.

Two Preinstalled ARGB PWM Fans
The Divider 170 TG ARGB comes with two pre-installed hydraulic bearing 120mm ARGB PWM fans which can effectively lower the operation noise and enhance thermal efficiency. The fans' lighting can be either controlled by the physical RGB button on the I/O panel or motherboard software from ASUS, GIGABYTE, MSI, and ASRock. There are 27 RGB lighting modes to play around with when using the physical RGB button, and it's simple to switch between physical button control and motherboard software control by long pressing the RGB button for three seconds.

Built-in PSU Cover
Divider 170 TG ARGB comes with a full length power supply cover providing plenty of space to tuck away cables, while keeping airflow clear for your hard drives and PSU.

Excellent Dust Filtration
The Divider 170 TG ARGB has a handy magnetic fan filter on the top and the inner left side which simply attaches for easy dust filtration and particulate protection. At the base of the chassis, additional filter provides excellent protection against both dirt and dust.

Air Intake and Exhaust
The cooling performance of the Divider 170 TG ARGB is excellent. The large airflow-optimized mesh panel at the front allows optimal air intake. Cooling exhausts are located at the rear of the case.

Excellent Hardware Support & Cooling Solution
The Divider 170 TG ARGB has great hardware support. It can support a CPU cooler with a maximum height of 160mm, VGA with maximum length of 350mm (without radiator), a power supply with a length of up to 200mm (with HDD Cage), two 3.5" HDDs with two 2.5" SSDs or a total of four 2.5" SSDs. When it comes to cooling, the Divider 170 TG ARGB comes preinstalled with two hydraulic bearing 120mm ARGB PWM fans which can effectively lower the operation noise and enhance thermal efficiency, you can also choose to put two 140mm fans at the front and one 120mm fan at the rear. Moreover, it can hold up to two 140mm fans at the top. For radiator compatibility, it can support up to a 280mm at the front.

Handy I/O Ports
Two USB 3.0, one USB 2.0, and one HD Audio are placed on the top panel to grant direct access when needed.

Availability, Warranty, and Pricing
Thermaltake Divider 170 TG ARGB Micro Chassis and Divider 370 TG ARGB Mid Tower Chassis are available for purchase via the Thermaltake worldwide network of authorized retailers and distributors. It is backed by a three-year warranty and supported by the Thermaltake worldwide customer service and technical support network. For up-to-date pricing, please refer to the Thermaltake website or contact your local Thermaltake sales or PR representative.

TT Premium
To continue achieving the corporate mission of delivering the perfect user experience, Thermaltake developed "TT Premium" with the essence of combining supreme quality products with a new logo design. TT Premium is far more than just a guarantee of quality. Behind the name, it represents the passion in DIY, Modding and Thermaltake's desire to be the most innovative brand in the PC hardware market. To satisfy the demand of the high-end PC users, TT Premium follows its core values of Excellent Quality, Unique Design, Diverse Combinations and Boundless Creativity to provide a high performance PC product for every enthusiast.

For more details on the Divider 170 TG ARGB Micro Chassis and Divider 370 TG ARGB Mid Tower Chassis, please visit:
Divider 370 TG ARGB Mid Tower Chassis –
https://www.thermaltake.com/thermaltake-divider-370-tg-argb-mid-tower-chassis.html
Divider 370 TG Snow ARGB Mid Tower Chassis –
https://www.thermaltake.com/thermaltake-divider-370-tg-snow-argb-mid-tower-chassis.html
Thermaltake Divider 170 ARGB Micro Chassis –
https://www.thermaltake.com/thermaltake-divider-170-tg-argb-micro-chassis.html
Thermaltake Divider 170 TG Snow ARGB Micro Chassis –
https://www.thermaltake.com/thermaltake-divider-170-tg-snow-argb-micro-chassis.html

Where to Buy Divider 370 TG ARGB Mid Tower Chassis:
TT Premium China
Black-https://ttpremium.com.cn/product/艾坦-divider-370-tg-argb钢化玻璃中直立式机箱/
White-https://ttpremium.com.cn/product/艾坦-divider-370-tg-argb-钢化玻璃中直立式机箱-雪白版/

TT Premium Europe
Black-https://ttpremium.eu/thermaltake-divider-370-tg-argb-mid-tower-chassis.html
White-https://ttpremium.eu/thermaltake-divider-370-tg-snow-argb-mid-tower-chassis.html

TT Premium Taiwan
Black-https://ttpremium.com.tw/thermaltake-divider-370-tg-argb-mid-tower-chassis.html
White-https://ttpremium.com.tw/thermaltake-divider-370-tg-snow-argb-mid-tower-chassis.html

TT Premium Asia
Black-https://asia.ttpremium.com/thermaltake-divider-370-tg-argb-mid-tower-chassis.html
White-https://asia.ttpremium.com/thermaltake-divider-370-tg-snow-argb-mid-tower-chassis.html

TT Premium Australia
Black-https://ttpremium.com.au/thermaltake-divider-370-tg-argb-mid-tower-chassis.html
White-https://ttpremium.com.au/thermaltake-divider-370-tg-snow-argb-mid-tower-chassis.html

Where to Buy Divider 170 TG ARGB Micro Chassis:
TT Premium Europe
Black-https://ttpremium.eu/thermaltake-divider-170-tg-argb-micro-chassis.html
White-https://ttpremium.eu/thermaltake-divider-170-tg-snow-argb-micro-chassis.html

TT Premium Australia
Black-https://ttpremium.com.au/thermaltake-divider-170-tg-argb-micro-chassis.html
White-https://ttpremium.com.au/thermaltake-divider-170-tg-snow-argb-micro-chassis.html

TT Premium Taiwan
Black-https://ttpremium.com.tw/thermaltake-divider-170-tg-argb-micro-chassis.html
White-https://ttpremium.com.tw/thermaltake-divider-170-tg-snow-argb-micro-chassis.html

TT Premium Asia
Black-https://asia.ttpremium.com/thermaltake-divider-170-tg-argb-micro-chassis.html
White-https://asia.ttpremium.com/thermaltake-divider-170-tg-snow-argb-micro-chassis.html